Ilfracombe: New Lifeboat Comes To Town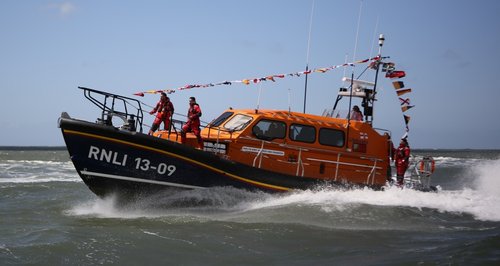 Hundreds of people lined Ilfracombe Harbour to greet the town's brand new RNLI lifeboat, the Shannon class The Barry and Peggy High Foundation.
The amount of support shown made an exciting day even more emotional for Ilfracombe RNLI's volunteers.
It was an exciting, historic and emotional day for Ilfracombe as the new Shannon class all-weather lifeboat, The Barry and Peggy High Foundation, arrived in the harbour for the first time.
Hundreds had flocked to the harbour area to greet the lifeboat, which is only the second of her class in the South West.
She will replace the current Ilfracombe RNLI Mersey class all-weather lifeboat, Spirit of Derbyshire, which has served for 25 years.
Applause rang out from the crowd, which in places was three or four deep, and it was an emotional moment for the RNLI volunteers.
The brand new, faster, more agile vessel with take over from the Mersey as our station lifeboat.
Over the next week, there will be both training at sea for our volunteers, and launch and recovery training.
They are encourage anyone to come down and watch as we train, but we do ask that you keep your distance from all operational equipment.
The naming and dedication ceremony for Ilfracombe RNLI's new Shannon will be held on Friday 26 June at 2.30 pm.
More details will be released closer to the date.
Photo Credit: Jan Perrin