North Devon: More Targeted Litter Blitzes
9 March 2015, 11:28 | Updated: 9 March 2015, 11:36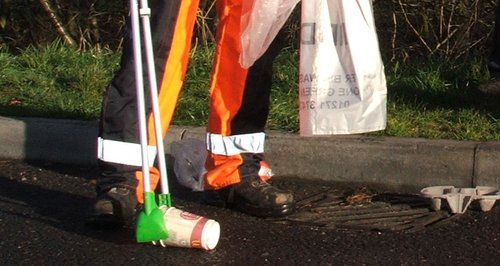 The annual litter blitz along the North Devon Link Road is to become a thing of the past.
For the last eight years, North Devon Council has had just a four-week window each year to clean the 34 mile stretch of road.
This is to fit in with South West Highways, who have helped provide the safety vehicle and signs for the clean-up.
However now, the district council has invested in the relevant safety equipment, signs and training, to enable its own teams to carry out litter blitzes by themselves, as and when required.
This means the overall appearance of the gateway into North Devon should be more appealing, not just to residents but also to tourists. Last year, the council picked up 218 bags of rubbish along the link road as part of its litter blitz.
The majority of the waste was made up of fast food wrappers, but also included things like builders rubble and mattresses.
To help minimise waste building up along the road, motorists are being urged to take their rubbish home with them and recycle it where possible, or to use the lay-by bins provided.
If caught dropping litter, drivers can be fined up to £2,500 and even face court.
There are also heavier fines for larger amounts of fly-tipping.
To report fly-tipping, go to www.northdevon.gov.uk or phone 01271 374776.