Woolacombe: Body Boarder Rescue
14 July 2016, 11:08 | Updated: 14 July 2016, 11:31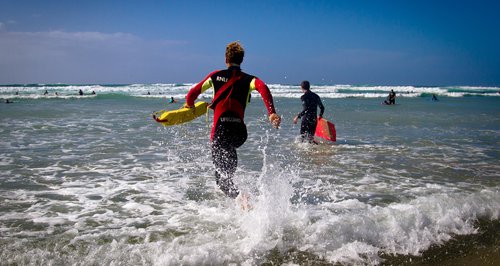 RNLI lifeguards at Woolacombe came together as a team to help rescue a body boarder who dislocated her shoulder after being thrown around amongst the surf.
The casualty attempted to swim further out to avoid the waves that were causing her more difficulty, but was unfortunate to injure herself on Tuesday afternoon.
The woman was spotted in the water and looked to be in trouble after RNLI Lifeguard Niall Desy was carrying out routine training on a rescue board. Proceeding to paddle over to to women Mr Desly raised the alarm to get extra assitance to get her back to the shore safely.
The inshore rescue boat (IRB) was launched with two more lifeguards on hand to help the casualty in to the boat and she was then taken to shore.
The woman was also suffering from the cold and was in a lot of pain by the time the lifeguards reached the beach.
Several lifeguards administered first aid and helped the casualty out of the boat to the lifeguard unit where they took to medical attention.
Swimmers have been told if you ever need help in the water, raise your arm so that a lifeguard can come to your assistance.
The woman has since returned to the beach to thank the lifeguards with a card and flowers for helping her out of the water.