College Lecturers Hold 48 Hour Walkout
28 November 2018, 10:50 | Updated: 28 November 2018, 10:52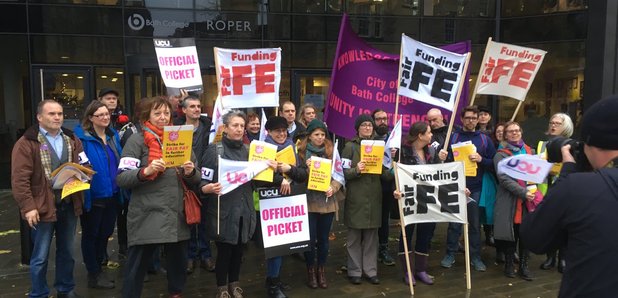 Some college lecturers in Bath and Swindon have gone on a 48-hour strike in a row over their pay.
Members of the University and College Union (UCU) have walked out at six colleges across the country including Bath College and New College Swindon.
They claim their salary has fallen by a quarter over the last decade and that staff are being paid up to £7000 less than teachers.
Heart's been told some of these lecturers are struggling to pay their rent, buy food and heat their homes on their wages. Some are even having to go to Foodbanks.
The UCU want the government to give colleges more funding so they can pay them more.
Laurel Penrose, Principal and CEO at Bath College, told Heart: "It's a minority of our employees that are taking strike action. We understand the reasons why and I'm sympathetic but it's not about Bath College, it's about the central funding from government, which is inadequate for further education colleges and our colleagues here are demonstrating for that reason and that reason alone. Our funding has been cut by 30 percent overall since 2009 and our 16-18 funding is the same as it was in 2006. We have offered a 1% pay award this year. The UCU are asking for 5% but we can only work within the financial envelope that we have. I cannot put the college in jeopardy of not being sustainable in the future. We do believe our staff should be paid more but we are restricted by the funding we get from the government."
In a statement, Carole Kitching, Principal and CEO of New College Swindon, said: "Whilst we are disappointed that a small number of UCU members have voted in favour of strike action, we recognise that the FE sector continues to be significantly underfunded and the College actively supports the campaign for fairer funding for colleges for the Government to address the increasing pay gap between school and college teachers. New College pays an average of 6% above Association of Colleges (AoC) academic pay scales and has made an annual pay award to all staff every year in the last six, with the exception of one year, often surpassing the national recommendation. Whilst we do have reserves, these have been built up over many years to safeguard the long term future of the College and ensure that we have the capacity for further investment in learning. Staff salaries are paid from yearly revenues which are subject to pressures such as real term reductions in funding, pension increases and economic uncertainty. We will continue to engage in discussions with UCU representatives to try and resolve the issue. Without question, our first priority is our students and we will be taking steps to ensure that there is minimal disruption to their learning."