Funeral Of 4 Year Old Mitzi Steady
23 February 2015, 18:59 | Updated: 23 February 2015, 19:08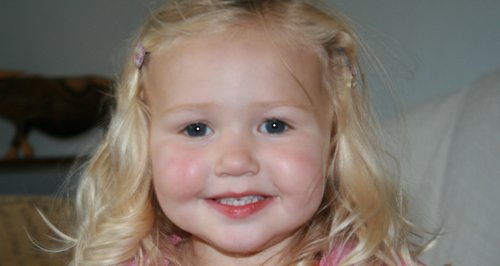 More than 800 mourners have attended the funeral of a four-year-old girl from Bath who died after being struck by a 32-tonne tipper truck.
Mitzi Rosanna Steady and three men were killed by the Scania truck on Lansdown Lane in Upper Weston, Bath, Somerset, just after 4pm on February 9.

The red truck carrying sand and gravel first hit Mitzi and her grandmother, who suffered serious injuries.

It overturned on to a Volvo at the bottom of the hill, killing Robert Parker, 59, from Cwmbran, Philip Allen, 52, and taxi driver Stephen Vaughan, 34, both from Swansea.

Mitzi's funeral took place at Bath Abbey, where hundreds of mourners wept as her wooden coffin, painted in the style of Disney's Frozen, was brought in. White flowers spelling the little girl's name accompanied the coffin, which featured a painted picture of a blonde Disney princess on the side.



The popular song Do You Want to Build a Snowman? from the film was then sung by Melody Makers, the abbey's choir for children aged from six to 11.

Emmajade Steady, the mother of Mitzi, read a letter to her daughter to the congregation, which began "Dear Mitzi''.

"How can it be that there will be no more memories?'' Mrs Steady read. "You were just becoming a young girl. So smart, so open and free. I want to come home to you throwing yourself at me again. I want to give you your special milk on your cereal and ask 'what shall we do today?'

You were such a confident child, so sure in the love that surrounded you. You had the most beautiful wonderful everything. Stubborn and kind, loving and determined. Vulnerable but so fearlessly giving. You were so vibrant and alive.''

Mrs Steady remembered tents she used to build and play in with her daughter and the games she used to play with sister Mycha.

She told the congregation of "rough and tumble games'' Mitzi played with brother Eric and described how excited her daughter was for her first sleepover.

"We only had four years with you but they were the best years of our lives,'' she said.

"You were the light of our lives, the love that filled our souls. You were the sparkle in a dark night and the laughter ringing in our ears. You brightened up every corner of our world. I held you and you gave me peace, you gave me happiness and joy and so, so much more.
Not just to me but to everyone you knew. You were so smart, funny, stubborn, gleeful, just amazing. I want you here with me forever.
I want to share forever with you. We will go on and try to live better, fuller lives, and to share the joy, you gave to us with others.
You taught us all so much about life and love and living in your short years my sweetest angel and I can't believe that I will never get to hold you or sing with you, giggle with or comfort you. I hope with all my heart that you are safe in heaven my darling baby girl and that we will all join you one day and have many more happy memories. Goodnight and God bless, our sweet princess.''

Readings followed the family tribute and the hymn The Lord is My Shepherd was sung, along with There is a Place by John Bell by the Melody Makers.

Prayers were said before the final song of the service, Lullabye by Billy Joel.

After the service, which was led by Revd Dr Sarah Hartley, Associate Priest of Bath Abbey, mourners congregated outside to share memories.

Collections were made for road safety charity Brake.

A JustGiving page set up by Mitzi's family in her memory has already raised more than £15,500. The page can be found here: www.justgiving.com/MitziSteady

Following the incident, driver Philip Potter, 19, was arrested on suspicion of causing death by dangerous driving and manslaughter by gross negligence. A 28-year-old man, believed to be Mr Potter's boss, was also arrested on suspicion of causing manslaughter by gross negligence.
Both men have been released on police bail pending further inquiries.