Man Charged With Manslaughter After Bath Tipper Truck Crash
12 May 2016, 15:49 | Updated: 12 May 2016, 15:54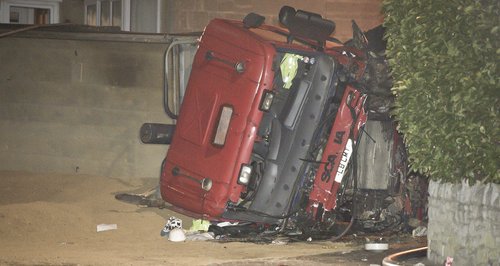 A 55-year-old man from Wiltshire has been formerly charged with two counts of manslaughter following the fatal collision in Lansdown Lane in Bath in February 2015.
Peter Wood, of Brooklands, Chippenham, appeared at Bath and Wansdyke Magistrates Court today (Thursday 12th May), where he was charged with the following:

On 9 February 2015 at Bath unlawfully killed Mitzi Steady.
On 9 February 2015 at Bath unlawfully killed Stephen Vaughan, Philip Allen and Robert Parker.
He was released on police bail to appear at Bristol Crown Court on June 10.

Phillip Potter, aged 19, of Dauntsey in Chippenham and Matthew Gordon, aged 29, of Dauntsey in Chippenham have made previous court appearances in relation to the incident in February of last year and are bailed to appear at Bristol Crown Court for a pre trial hearing on Friday 1 July.
The four people died after being struck by a Scania truck carrying aggregate on Lansdown Lane in Upper Weston, Bath just after 4pm on 9th February 2015. The red truck first hit and killed 4 year old Mitzi Rosanna Steady, from Bath, and her grandmother Margaret Rogers, who suffered serious injuries. It went on to collide with a number of vehicles on the road before overturning on to a Volvo at the bottom of the hill, killing the three men inside. They were Robert Parker, 59, from Cwmbran, electricity company director Philip Allen, 52, and taxi driver Stephen Vaughan, 34, both from Swansea.

Potter is charged with four counts relating to the crash. He is accused of two charges of causing serious injury to Mrs Rogers, and Karla Brennan, by dangerous driving on February 9. The 19-year-old is charged with two counts of causing death by dangerous driving - one relating to Mitzi and the other to Mr Vaughan, Mr Parker and Mr Allen. Charges allege he was driving the HGV tipper truck "dangerously'' from an access road to Shorncote Quarry, along the Spine Road, on the M4, on the A46, the A420, Freezing Lane and Lansdown Lane.

Gordon faces five counts relating to the incident. He is accused of two charges of aiding or abetting the causing of serious injury, relating to Mrs Rogers and Karla Brennan. Gordon is charged with driving the HGV tipper truck dangerously on the same roads as Potter is alleged to have done so. He also faces two charges of aiding or abetting the causing of death by dangerous driving of Mitzi, Mr Vaughan, Mr Parker and Mr Allen.
Tributes were paid to the four victims following the tragedy. More than 800 mourners attended Mitzi's funeral at Bath Abbey, with her wooden coffin painted in the style of Disney's Frozen. Emmajade Steady, Mitzi's mother, read a letter to her daughter to the congregation, saying:
"Dear Mitzi. You had the most beautiful, wonderful everything. Stubborn and kind, loving and determined. Vulnerable but so fearlessly giving. You were so vibrant and alive.''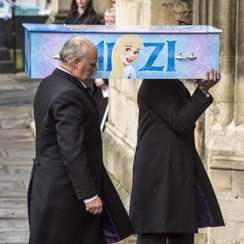 A JustGiving page set up by Mrs Steady and her husband Andrew has raised more than £23,000 for road safety charity Brake.

An inquest, which was adjourned pending the police investigation, heard that Mr Parker was travelling in the Volvo when it was struck.

Mr Vaughan, from Penyrheol, near Gorseinon, Swansea, ran luxury taxi firm EliteXecutive Travel and was driving the Volvo. Hundreds attended his funeral at St Catherine's Church in Gorseinon, where his wife Sian paid tribute to him. She said:

"Myself, Steve's parents and family are very proud of the man he was, a true gentleman and we were so privileged to have been a part of his life. We are devastated that he was taken away from us so soon. We had only been married six months and I was honoured that he chose me to be his wife.''

The Volvo's third passenger was Mr Allen, a father-of-two, who lived in Loughor, Swansea, with his wife Caroline. He was a resources and external affairs director for Cardiff-based Western Power Distribution.