Men Jailed Over Bath Tipper Truck Crash
27 January 2017, 16:49 | Updated: 27 January 2017, 17:00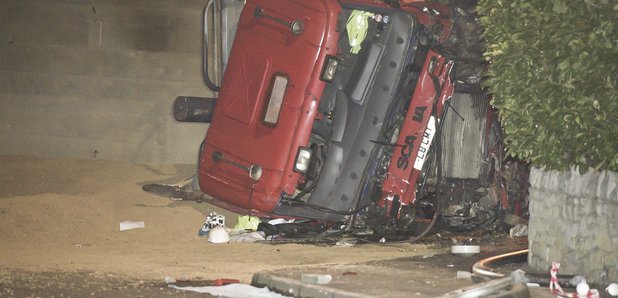 Two men have been jailed for manslaughter in connection with the Bath tipper truck crash.
Matthew Gordon was jailed for seven years and six months and Peter Wood for five years and three months after being convicted for their involvement in the death of four people in Lansdown Lane in February 2015.
Gordon was also banned from being a company director for 12 years.
4-year-old Mitzi Steady was killed as she walked with her Grandmother, who was seriously injured.
Three men from Wales also died when their car was hit by the truck, they were Stephen Vaughan, Philip Allen and Robert Parker.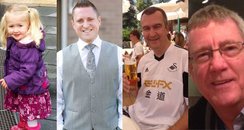 DCI Richard Ocone said: "Firstly, our thoughts remain with all those affected by this horrific incident.
"These sentences reflect the seriousness of the offences committed, bringing to a conclusion a complex 22-month investigation, which centred on the blatant disregard of a company in its duty of care to the public.
"As a company owner Matthew Gordon had no transport manager and effectively flouted every regulation, which had been put in place to ensure safety.
"His mechanic Peter Wood signed off vehicles as safe when they clearly were not.
"Detailed and complex investigations showed many of the faults on the vehicle were longstanding – highlighted by the fact that the brakes on the lorry at the time of the crash, were totally inadequate, having an overall efficiency of just 28 per cent.
"If there is just one single lesson to be learned from this sad and tragic incident, it is that company transport owners must adhere to a duty of care, which includes regular maintenance and servicing of all vehicles.
"The public needs complete reassurance that this work is undertaken regularly and remains a top priority for all companies.
"I would once again like to thank our partners in this investigation – the Crown Prosecution Service and the Driver and Vehicle Standards Agency – for their expert advice and support in what was an extremely complex and detailed investigation.
"Finally, I hope that the jailing today of both Matthew Gordon and Peter Wood helps to provide some form of closure on this particularly difficult and traumatic time for the family of those who died or suffered serious injuries following the dreadful incident on 9 February almost two years ago."
Alyson Harris, Senior Crown Prosecutor for the CPS said: "Today, Matthew Gordon and Peter Wood have been sentenced but we need to remember the devastation their gross negligence caused to innocent lives and their families as well as the deep impact this has had on the community at large, including the emergency services and all the passers-by who attended the scene many of whom were traumatised by what they saw.
"The Crown Prosecution Service worked with the Police and then with the barristers who presented the case for us for over 18 months in order to achieve this result and we hope that it will bring some sense of justice to all those hurt by this terrible collision."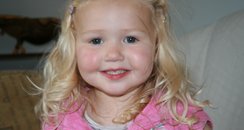 An impact statement from Mitzi's mum Emmajade was read in court:
I am Emmajade STEADY. I am married to Andrew STEADY. I am the daughter of Margaret ROGERS and the mother of Mitzi STEADY, both of whom were struck by a truck on Lansdown Lane in Weston, Bath on 9th February 2015. My mum suffered life changing injuries and Mitzi was killed. This is my Victim Personal Statement (VPS) to try and explain the devastating impact that the events on that day have had on me and my family.
Being asked to explain the loss of my daughter to my family is a very difficult task and I feel whatever I say will be inadequate to fully explain what it has meant to our family. Day to day I find it a struggle to maintain the motivation to go forward. I think of Mitzi so often and yearn for her constantly. My husband and I both try to focus on making sure that our remaining children receive the emotional and physical support that they need. They both miss their sister desperately and are still trying to process her loss, as we all are. Mitzi's death has meant that my daughter, Mycha, has lost her best friend, her shadow. Her brother has lost his sweet little sister whom he adored and who adored him. They have to live their life with the loss and trauma of losing their sister. Her love, laughter and singing which delighted us all, no longer fills every corner of our home.
My husband and I are heartbroken that Mitzi will not get to live her life to the fullest, a life she loved with a vibrance and enthusiasm, bringing such joy to all who knew her. We are devastated that our bright, lively, beautiful, vibrant, outgoing little girl will never have her first day at school, learn to read, have best friends to giggle and play with ... the list is endless. We are bereft and emotionally distraught to be without our child. I still find it difficult to sleep and accept that Mitzi has died. That I can no longer hold her and protect her. That she had to suffer such a sudden, traumatic, senseless death. That I was not there with her and cannot be with my beautiful girl now.
Financially we are under greater strain as I have felt driven to give up work in order to support my children and my mother. My mother can no longer take care of the children and I feel the need to be near them for both their physical and emotional security and to help and support my mum whenever and however she needs me to.
My mother spent almost three months in hospital. She was unable to move into the house we had helped her to buy and it had to be sold. She is no longer able to care on a daily basis for our children, and feels the loss of time with them keenly. Her life has completely changed. She has needed a great deal of care and support, and has been on medication to date to deal with the pain resulting from her injuries. Emotionally she has struggled with the loss of her youngest grandchild whom she loved and cared for. In addition she has had to cope with survivor's guilt and also the loss of her life as she knew it. Even simple things take planning and effort that was not necessary prior to the accident. She is no longer able to run around and play robustly with the children and, for someone who is by nature outdoor loving and very active, it has been a difficult and painful transition both physically and emotionally. She is still traumatised by the accident and has trouble sleeping; she is also very fearful of roads and traffic in general and crossing any road causes her a high level of anxiety. She has spent many months learning to walk again on prosthetics and has required regular physiotherapy to deal with her injuries and strengthen her body once more to enable her to manage the increased physical challenge of walking with prosthetics. She is only walking at all due to her strength of character and sheer determination.
I hope that this letter manages to convey to some degree the impact to our family caused by the preventable crash on Lansdown Lane.