Plans For A Bath AquEye
9 September 2015, 08:25 | Updated: 9 September 2015, 08:39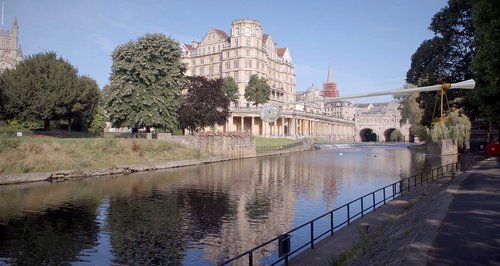 Bath could soon have it's own 'London Eye' style attraction.
AquEye is a revolving glass observation pod suspended between two carbon fibre masts 65m in the air giving stunning views over the city.

Built on Pulteney Weir Island, just below Bath's famous 18th century Pulteney Bridge, AquEye's contemporary glass capsule will accommodate up to 25 passengers at a time and will swing out over the river, before lifting up above the rooftops.
Subject to planning permission, AquEye will begin operation in spring or summer 2017.

Architect, Nicholas Stubbs, said "AquEye will be a global first for Bath and its hi-tech, low-profile design has been created specifically for heritage locations.

"Having worked as an architect in Bath for over 25 years I well understand the sensitivities of this World Heritage city. Although brilliant, I could not see the London Eye working here, so I wanted to develop something that would offer a similar breath-taking aerial experience, but in a way which was both elegant and unobtrusive. AquEye will lift people high enough to enjoy and interpret the city from above, but will be low profile enough to preserve Bath's traditional views, as AquEye's resting position is down and so doesn't interrupt the city skyline. It's also a dynamic work of art in it's own right; the future celebrating the past of this wonderful, beautifully innovative city."

Plans for AquEye have already been well received, with David James, Head of Bath Tourism Plus, saying "AquEye is a world first. It's beautifully inventive and will be a fantastic addition to Bath. It will bring extra visitors to the city, create jobs and further boost the local economy. It's a very exciting project and we're really looking forward to it."

A crowdfunding campaign will be launched in November to support the full planning and development of AquEye.
Anyone who would like to find out more about AquEye can visit the Little Southgate Shopping Centre in Bath on Saturday from 11am to 5pm.
Find out more here.