Gang Of Robbers Jailed For More Than 26 Years
13 January 2014, 11:09 | Updated: 13 January 2014, 12:00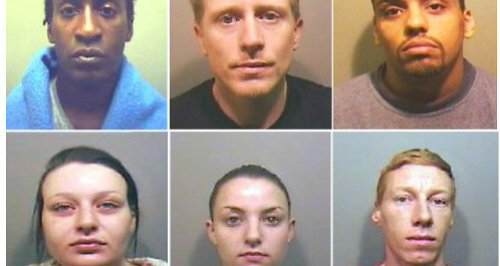 Gang stole more than £13000 in robberies.
A gang who robbed Co-op stores and betting shops across Bedfordshire and in Hertfordshire have been jailed for more than a total of 26 years.

Two would enter a store with their faces hidden behind masks, while others waited outside in getaway cars.

They would threaten staff to handover cash armed with a variety of implements, including hammers, screwdrivers, a knife or chisel.

In the three month period at the beginning of 2012 they committed nine robberies, one attempted, stealing more than £13,000.
Robberies took places at:
The Co-op in Manor Road, Caddington
The Co-op, 76-78 Birdsfoot Lane, Luton
Ladbrokes, Hitchin Road, Luton
The Co-op, 259 Birdsfoot Lane, Luton
The Co-op, Lowther Road, Dunstable
An attempt at Ladbrokes in Eaton Green Road, Luton,
The Co-op, Wigmore Lane, Luton
The Co-op, Westfield Road, Dunstable.
The Co-op, High Street Redbourn, Hertfordshire
The Co-op, Coniston Road, Flitwick.

They were arrested following a high speed police chase, after the number plate of their getaway car was passed on to officers by locals at a pub in Flitwick, who realised they were robbing a nearby Co-op store.

Those jailed from left to right, were John Langley, 34, of Dunstable Road, Luton, who was convicted by a jury of conspiracy to rob. He was a getaway driver and was jailed for eight years and banned from driving for five years.

Stuart Guildea, 36 of Richmond Drive, Houghton Regis was jailed for seven and a half years after pleading guilty to three robberies, one attempted robbery and three thefts.

Anthony Francis, 32 of Jasmine Road, Luton was jailed for five years and four months. He pleaded guilty to two robberies.

Rachel Richards, 23, of Spinney Road, Luton was found guilty by a jury of conspiracy to rob. The mother of one was a getaway driver on two occasions. She was jailed for four years and banned from driving for three.

Christina Garland, 24, of Holyrood Drive, Houghton Regis, was also found guilty of conspiracy to commit robbery, after being present in the getaway car on one occasion. She was given a two year prison sentence but was not in court as she had jumped bail. A warrant is out for her arrest.

The sixth defendant Mathew Daly, 34, of Abbots Wood Road, Luton, will be sentenced on Tuesday. He pleaded guilty to three robberies, and is in prison on remand.

Judge Philip Bartle QC said: "Each robbery was carried out in more or less the same way. They were planned and not spontaneous.

"Each took about a minute and the robbers knew exactly what they wanted and how to get it.

"Staff and customers were scared and frightened but no one was physically injured."