Bucklebury Farm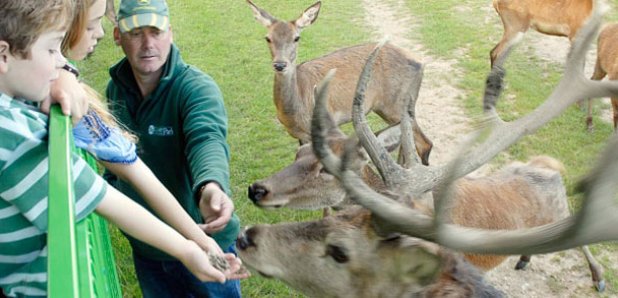 Bucklebury Farm & Deer Safari Park offers a magical experience and a great value day out in the countryside whatever the weather, that will appeal to the whole family, friends, schools and clubs.
Bucklebury Farm Park is a 77-acre farm owned and run by husband and wife team Rupert and Elizabeth Hartley Russell and based in the picturesque Pang Valley.
Originally Bucklebury Farm Park was purely a working farm, growing corn and housing a small flock of sheep. In 1986 six acres of strawberry fields were planted and the farm became a popular pick-your-own but in 1992 the decision was taken to diversify into the tourist industry, and the past 23 years has seen the creation of a magical farm park experience for all to enjoy.
The farmyard is home to a small herd of rare breed Berkshire pigs, pygmy and Anglo-Nubian goats, Dexter cattle, ponies, donkeys, poultry, guinea fowl and even reindeer.
The deer park is home to Bucklebury Farm Park's extensive deer herd with four different breeds including Red deer, Sika, Fallow and Axis. Tractor rides and deer safaris offer visitors unique access to this wonderful herd.
The farm's woodland offers the chance to get away from it all with nature trails and a boardwalk over the stream and plants, flowers and wildlife to see all year round.
Being a working farm, everyday is an adventure at Bucklebury Farm Park with new arrivals on the farm yard throughout the year, baby lambs to bottle feed in spring, goat kids, rabbits and guinea pigs to cuddle and piglets to watch. But our visitors are also guaranteed fun in our adventure playground, on the jumping pillow, go-karts, obstacle course, den-building area and great indoor play area with its scary drop slides and soft play for little ones.