Bristol: Arena Design Chosen
17 March 2015, 16:27 | Updated: 17 March 2015, 16:33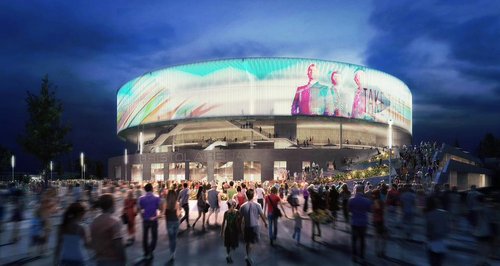 A new 12,000 seater Bristol Arena has moved a step nearer with the winning design chosen.
It has been won by Populous, the team who designed the London Olympic Stadium and the O2 Arenas in London, Berlin and Dublin, and the recently completed Leeds Arena.
George Ferguson, Mayor of Bristol and Past President of the RIBA said: ''I am delighted with the outcome of this vital design competition. The Populous team has presented an innovative design for a horseshoe shaped arena that will allow us real flexibility for programming, for now and into the future, offering both performers and audiences an outstanding acoustic and visual experience. The new arena shone out as the best of five great designs and will sit comfortably on the 'Arena Island' site next to Temple Meads and the Bath Road. I have been determined that we achieve the best arena yet and the commitment towards achieving a BREEAM Excellent environmental rating adds to Bristol's reputation as European Green Capital.
''Although Bristol is one of the last cities in the UK to build an arena, this design, is an evolution of some the world's best venues and gave the expert panel real confidence in the team's ability to deliver a very special venue for the region.''
Nicholas Reynolds, Populous design team said: ''We believe Bristol Arena will be the catalyst for the creation of a vibrant new quarter in the city. The design is flexible enough to cater for a wide variety of events and creates a range of spaces inside and out of the venue itself, for people to come together right throughout the year. Our design for Bristol Arena is unique. It delivers a world-class live concert venue for 12,000 fans, and with seamless conversion the atmosphere and intimacy of a 4,000 seat amphitheatre. The adaptive façade will provide the canvas, which defines the identity of the building within the Bristol skyline, as it transitions between an ephemeral form by day, to a dynamic event backdrop by night.''
Harvey Goldsmith CBE, music promoter and competition panel member said: ''Bristol needs a fully integrated, multi use and flexible arena. The winning team have presented a concept that fits the criteria. They understood how an arena works not only from the public's point of view, but also from the promoter and artist stand point. I think their understanding of the site combined with their knowledge of building arenas made it easy for us to choose this team as the winners. I believe that the new Bristol Arena will rank amongst the best in the UK.''
The arena project team will now work with Populous and other team members on the detailed design that will be submitted for planning approval in the summer.
It is hoped the £90m arena, which will be built near Temple Meads, will open at the end of 2017.