Bristol City Star Helps Fan From Down Under
29 April 2015, 14:15 | Updated: 29 April 2015, 14:21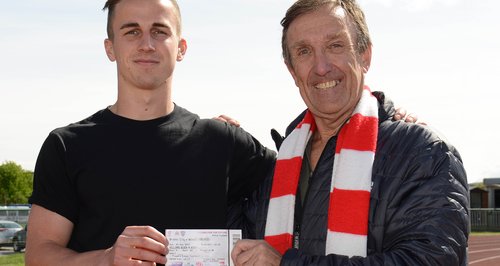 Bristol City's Joe Bryan has come to the aid of a supporter desperate to attend this Sunday's game following a mammoth trip from Australia.
Alec Spiller, a lifelong City supporter, spent £2,000 flying from his new home in Sydney to celebrate the club's league win with his hometown friends.
Spiller, 67, grew up in Bristol and watched his first match as a ten-year-old in 1959, from which point he was a fan for life, following every game online from his home in Oz.
Planning to watch his beloved City take on Walsall in the final home league game of the season, Spiller was facing disappointment with all tickets for Sunday's clash already snapped up.
But upon hearing his story, fellow Bristolian and wing-back Bryan was moved to offer the City fanatic his remaining player allocated ticket for the game. Bryan said:
"I'd seen Alec's story in the paper and just did what I'm sure anyone else in my position would do, and offered my ticket for the game to him. It's great that he's made such a huge effort to celebrate the title win with us and is another example of how great the support has been for us all season."
Bryan has capped an excellent season as a first team regular by being named in the PFA Sky Bet League One Team of the Year.
Spiller was suitably delighted that he had secured a seat to the game, and more so that it had been provided by one of his heroes. He said:
"I was deflated when I discovered all tickets for the Walsall game had gone, so when I found out that Joe had offered me his ticket, I was thrilled.
It's a great gesture from a great player. I'd like to thank Joe for helping me out, and the rest of the squad for all their achievements this season. I'm looking forward to celebrating this Sunday!"