Bristol To Paris Charity Cycle Challenge
1 May 2015, 18:13 | Updated: 1 May 2015, 18:39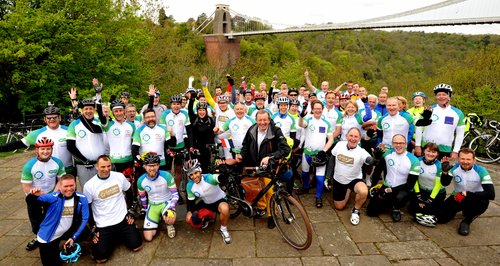 A 70 strong team ranging from Bristol medics to managing directors as well as supporters from the local community have set off from Bristol at to cycle 430km to Paris in just four days.
The cyclists' goal is to raise £100,000 for charity Above & Beyond's £6M Golden Gift Appeal for projects above and beyond what the NHS can provide, to transform our city's hospitals for generations to come.
Bristol Mayor George Ferguson sounded the air horn to formally launch this epic cycle challenge - as Above & Beyond announces its biggest appeal to date has raised a phenomenal £5M in less than two years, with amazing support from local people, businesses and Trusts. The 2015 Bristol to Paris Cycle Challenge will lead the countdown to that final £1M.
Above & Beyond's Golden Gift Appeal is raising £6m to transform the Bristol Royal Infirmary and the Bristol Haematology and Oncology Centre into the very best – gold standard.
This appeal will equip two very important hospitals for our city and region to deliver both today's life-saving care and the pioneering treatments of tomorrow. The huge building programme now underway at our city centre hospitals offers a once in a lifetime opportunity to give a golden gift to 6.6 million people who live in Bristol and the South West. Cancer patients, patients needing life-saving and emergency medical care and older patients are all set to benefit. Every donation big or small means together we can give patients the gift of gold-standard healthcare.
Above & Beyond is the local hospitals' charity that raises funds for all Bristol's city centre hospitals. Each year, they invest around £3 million in projects that make a real difference to patient care. The charity fundraises to improve the hospital environment, fund innovative research, support and train hospital staff, and provide state of the art equipment. Working with inspirational local people, Above & Beyond aims to make a difference to every patient and every condition. When patients, their families and friends want to say thank you for the care they've received at the hospitals, they come to Above & Beyond.

(Pics. Chas Breton)