Cat Rescued From Between Two Walls In Bristol
22 April 2015, 15:36 | Updated: 22 April 2015, 15:44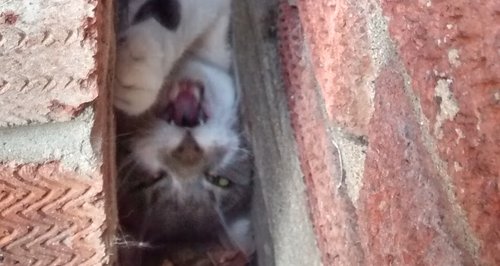 The RSPCA and Avon Fire and Rescue Service have joined forces to rescue a cat who had become stuck in a small gap between two garage walls.
Marv the cat had somehow become firmly wedged upside down in the gap between his owner's garage and their next door neighbour's garage in Lydiard Croft, Hanham, Bristol.

It is thought he had been stuck for around two hours when the neighbour heard his miaows and contacted the RSPCA. Animal welfare officer (AWO) Simon Coombs tried to free Marv, but he was so tightly wedged in that he couldn't move him.

Simon contacted Avon Fire & Rescue Service for help and a crew from Yate Fire Station attended. Upon examining the garages, it was clear that they would have to get to Marv through the neighbour's wall. It took around half an hour for the officers to chisel the breezeblock free which revealed Marv's tail and back legs.
From there, AWO Coombs was able to reach in and pull Marv backwards out of the space. Luckily the cat wasn't injured and was returned to his overjoyed family.

Brendon Veale, Marv's owner, said:
"Marv does like to get into things, but this is definitely the smallest space he's managed to squeeze into. He was a little shaken after his ordeal and stayed inside for a day or two, but he was otherwise unharmed."

AWO Coombs said:
"We don't know how Marv got into the space, it may be that he fell into the gap and struggled to get free only to get himself well and truly stuck. As usual, we are immensely grateful to the fire and rescue service for their help, not to mention grateful to the neighbour, whose garage wall came off the worst in this incident! It was great to see Marv reunited with his family after this real team effort to free him."