Bristol City Centre Revamp
3 August 2015, 10:44 | Updated: 4 August 2015, 12:37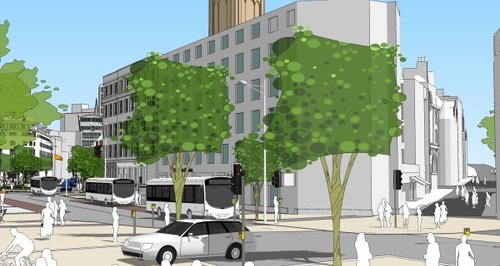 The road layout will change in Bristol City Centre as part of an £8m revamp for the MetroBus project.
Work will happen in 3 phases starting in October. It will take 18 months and is due to finish by Spring 2017.
By then there will be a new road link between Baldwin Street and St Augustine's Parade (in front of the Hippodrome) which will mean traffic will be able to cross the centre and turn left towards Park Street. Traffic from Park St and Anchor Rd will be able to turn right towards Baldwin Street.
Elsewhere the figure of 8 flow is being scrapped, but traffic will still be able go up and down St Augustine's Parade and Colston Avenue. Part of the road on the Corn street side of the Cenotaph will be for public transport only.
See Travel West for more details HERE - or check out the guide and some images of what it should look like below.