Crane Watch!
8 April 2015, 12:34 | Updated: 8 April 2015, 12:45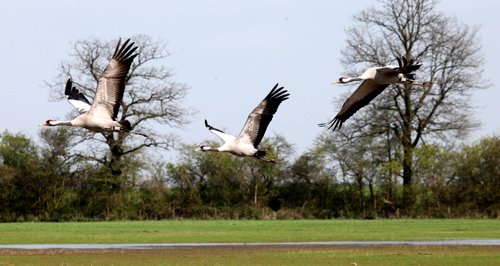 The Wildfowl & Wetlands Trust (WWT) at Slimbridge want us to tell them if we see any cranes - the birds not the lifting machines.
Cranes were missing from the West Country for more than 4 centuries but over the last five years WWT and its partners have brought cranes back.
They hand reared birds and released them in Somerset. Now the cranes fly up and down the Severn Estuary but several spend most of their time on the reserve at Slimbridge.

However - staff at WWT are expecting several of the birds to attempt to breed this spring in the area. So they're asking people out in the countryside to help help spot the cranes away the reserve. WWT would like to know how much the birds are visiting other open spaces in the area and whether they might breed anywhere.

Cranes are over a metre tall and have a very large wingspan - they look similar to herons, but unlike herons they fly with their necks stretched out in front of them and are usually seen in pairs or groups.
Here's a video guide to spotting cranes:
WWT would ideally like to know where they were, how many were there and whether they had coloured marker rings on their legs. However, any information is welcome and people are urged not to risk disturbing the birds by getting to close.
Find out more HERE
Picutres: From WWT Slimbridge - (c) Derek Cropton