Location Chosen For New M4 Junction
12 March 2018, 16:28 | Updated: 12 March 2018, 16:30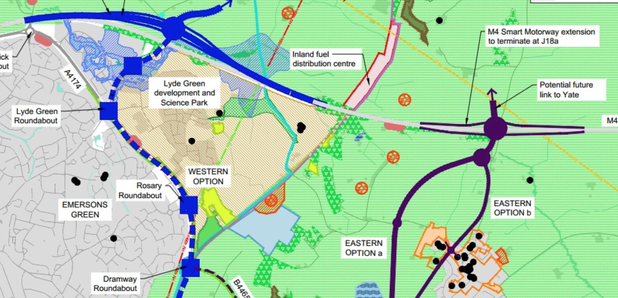 We now know the controversial new M4 Junction is likely to be built via Lyde Green
South Gloucestershire councillors have voted unanimously in favour of that option, rather than a location near Pucklechurch.
Once built, junction 18a will link the M4 with the A4174 ring road and help reduce congestion in and around the area.
Cllr Colin Hunt, Cabinet Member responsible for transport, said: ''Having a new junction on the M4 is a long-standing aspiration of this council as there is a real need to ease congestion in this part of South Gloucestershire and provide better access to homes and jobs.
''The option we are recommending that Highways England now progress to the next stage of the process is the Western option. This would create a new junction to the north west of the Lyde Green housing development and would also connect the Westerleigh Road and link up with the A4174 ring road. This is the best available option and will help support future growth planned for the West of England.''
The report will now be provided to Highways England and following their review it will be provided to the Department for Transport.
Subject to funding and consent, the junction and link road could be built from 2025 onwards.