Mobility Scooter Record Attempt
12 May 2015, 16:41 | Updated: 12 May 2015, 16:54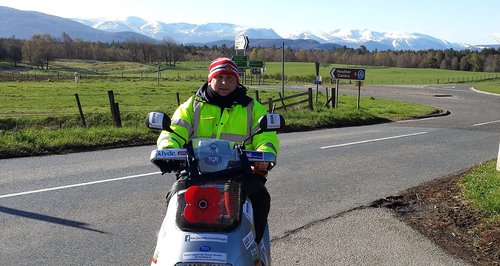 Andy McIntosh, 42 from Strathaven near Glasgow, is a disabled Army Corporal who is currently attempting, on a TGA Breeze mobility scooter, to beat the world record for the 'Fastest journey from John O'Groats to Land's End on an Electric Mobility Vehicle (individual)'.
Originally from Manchester, Andy retired from the Army fully fit to pursue a new career, however in 2008 he discovered he had a very rare and inoperable vascular condition. This means his circulation and mobility is severely restricted, resulting in day-to-day difficulties with independence. Hence Andy and his young family have been supported by several military charities – this world record attempt is raising donations to say thank you for their invaluable assistance. Beginning on the 5th May 2015, Andy is raising awareness and funds for Poppy Scotland, SSAFA, ABF The Soldiers' Charity, Erskine and Soldiers off the Streets.
Andy is currently driving a TGA Breeze the length of Britain and beat the current world record time for this journey that currently stands at 24 days and 9 hours. He is aiming to complete the challenge in less than 16 days and has strategically planned the route to maximise speed and safety. TGA Mobility – a leading national mobility scooter specialist based in Suffolk, is loaning him an 8mph Breeze S4 GT with extra wider rear wheels and heavy-duty Yuasa batteries. As a prequel to this year's 1,000-mile challenge, Andy's last journey demonstrated the proven performance of the Breeze as he drove from Northumberland to the Poppy Scotland office in Edinburgh.
Ross Freel and Alan Louden from one of TGA's retailers, Klyde Mobility based in Wishaw, are assisting him with battery changing and mechanical back-up. Andy commented:
"There have been a lot of tears since receiving the news that my condition is untreatable, but I am a man that never gives up. I've been in some very dark places but I won't let this beat me. This world record attempt will be a real challenge for sure, but gives me a focus to remain positive and ensures I can thank the charities that have been so supportive to my family and I. Despite my walking difficulties and health issues, I am determined to complete this epic journey and raise funds to help fellow disabled servicemen and women. I am so appreciative of TGA loaning me such a sturdy scooter, I know with a Breeze I will have peace of mind when it comes to reliability. During my last challenge the Breeze regularly delivered over 30 miles of range from a single battery charge which is amazing. I have complete faith in my own determination and the reliability of the Breeze."
Andy's projected route and estimated timings:
DAY 1: 5th MAY: START – 8:00AM: John O'Groats (TR19 7AA) to Tongue (IV27 4XH) – 63 miles.
DAY 2: 6th MAY: Tongue to Tain (IV19 1BB) – 65 miles.
DAY 3: 7th MAY: Tain to Aviemore (PH22 1LB) – 67 miles..
DAY 4: 8th MAY: Aviemore to Pitlochry (PH16 5BT) – 61 miles.
DAY 5: 9th MAY: Pitlochry to Inverkeithing (KY11 1NG) – 60 miles.
DAY 6: 10th MAY: Inverkeithing to Biggar (ML12 6QW) – 45 miles.
DAY 7: 11th MAY: Biggar to Gretna (DG16 5DH) – 60 miles.
DAY 8: 12th MAY: Gretna to Kendal (LA9 7DG) – 63 miles.. - TODAY'S ROUTE, ON COURSE
DAY 9: 13th MAY: Kendal to Southport (PR8 6NJ) – 70 miles.
DAY 10: 14th MAY: Southport to Crewe (CW1 2BD) – 62 miles.
DAY 11: 15th MAY: Crewe to Kidderminster (DY10 3PT) – 74 miles.
DAY 12: 16th MAY: Kidderminster to Lydney (GL15 5HJ) – 68 miles.
DAY 13: 17th MAY: Lydney to Bridgwater (TA6 3LY) – 67 miles.
DAY 14: 18th MAY: Bridgwater to Hatherleigh (EX20 3HB) – 69 miles.
DAY 15: 18th MAY: Hatherleigh to Roche (PL26 8JF) – 61 miles.
DAY 16: 19th MAY: END – 5:00PM: Roche to Land's End (TR19) – 56 miles.
ESTIMATED TOTAL DISTANCE: 1,011 MILES
Stephen Shirres, Poppyscotland's community fundraiser for the west of Scotland, said:
"Everyone at Poppyscotland wishes Andy the very best of luck with his ingenious and mammoth challenge. We were more than happy to support Andy when he and his family needed us and we are very grateful to him for raising money to help his fellow members of the Armed Forces community. We need to raise even more money every year to deliver our year-round services and Andy's challenge is a great example of how people can get involved and make a difference."
Wendy Searle, Head of Communications, ABF The Soldiers' Charity added:
"Andy has already undertaken a real challenge to raise money for us and the other worthy military charities. It's fantastic that he will go to such lengths to support the soldiers and veterans who may need help. We're behind him 100% of the way on his journey and are really looking forward to him breaking that record."
Daniel Stone, TGA Managing Director concluded:
"We are fully behind Andy and are delighted to be assisting with fundraising for his chosen military charities. When we supported him on his last challenge, Andy proved his steely determination and stamina. This will be tested to the extreme during this 1,000-mile challenge however we have every confidence he will beat the world record. He has already employed his military expertise and precision during the planning stages so this challenge promises to unfold efficiently.. Coupled with our loaned Breeze S4 GT that is proven to deliver 100% reliability and comfort in extreme conditions, Andy should achieve a new world record that will be memorable for all."
Andrew Taylor, Managing Director of Yuasa Battery Sales (UK) Ltd said:
"We wish Andy all the best with his world record attempt and we are pleased to be able to support him by providing the batteries to power his journey. Travelling the from John O'Groats to Land's End in under 16 days on a mobility scooter is a truly epic challenge and we are right behind him. We are confident that, like us, many people will be inspired by Andy's story and hope they donate generously for his worthy cause."