Second Metrobus service to start in Bristol in September
2 August 2018, 15:33 | Updated: 2 August 2018, 15:37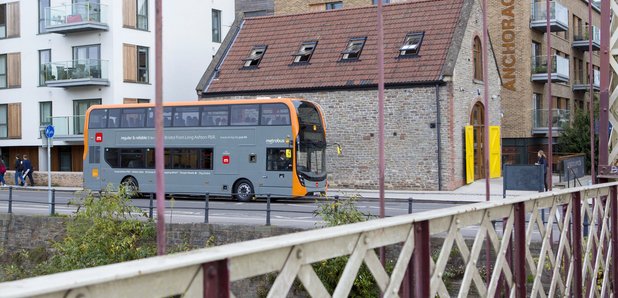 A second Metrobus service will start running in Bristol from Monday September 3rd.
First Bristol will operate the m2 service between Long Ashton P&R and the City Centre.
It will serve Ashton Gate Stadium, SS Great Britain, Wapping Wharf, Temple Meads Station and Cabot Circus and replace the current 903 Service.
On Mondays to Saturdays the m2 Service will run from 6am, with the last bus leaving the Long Ashton P&R at 9.30pm.
During peak times it will operate every 10 minutes, every 12 minutes during the off-peak, and three times per hour after 7pm.
On Saturdays the service operates every 12 minutes between 10am and 6pm, and 3 times hourly at other times.
James Freeman, Managing Director First Bristol, said: ''We are looking forward to taking metrobus to the next level and start operating the m2 Service. Since we started operating the m3 Metrobus Service from Lyde Green to City Centre at the end of April, we have been delighted to see steadily growing passenger numbers with around 120,000 journeys made so far; and appreciated a lot of positive feedback from customers. The m2 serves popular leisure destinations such as Ashton Gate, SS Great Britain and Wapping Wharf, Cabot Circus for shopping and Temple Meads for onwards travel, and we hope that it will appeal to many customers. A key benefit for future customers, including current 903 Service users, is that all of First's wide range of day, season and group tickets will be accepted on Metrobus m2, allowing through travel onto other services.''
Councillor Mhairi Threlfall, Cabinet member at Bristol with responsibility for transport said: ''It's great news that we have a start date for the m2, I'm really looking forward to riding it.''
The Council-subsidised 903 P&R Service will be withdrawn and First will operate the m2 commercially without subsidy.
In the first two weeks of operations, First will be offering m2 customers discounted travel.