Sexual Assaults On Clifton Downs
18 March 2015, 13:24 | Updated: 18 March 2015, 13:54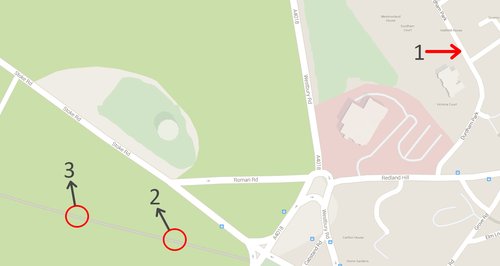 Police in Bristol are investigating two sexual assaults on women in the Clifton and Durdham Downs area, as well as an assault on a woman which happened on Sunday 1 March.
Extra patrols are being carried out in the area following the incidents on Wednesday 11 March and Friday 13 March.

In the incident on Wednesday 11 March, a woman in her fifties was walking along a path parallel to Stoke Road, running between Upper Belgrave Road and Ladies Mile, at about 7.20pm when she became aware of a man following her.

The man sexually assaulted her before running off towards the water tower after being disturbed by a member of the public.

On Friday 13 March, a woman in her fifties was walking along the same pathway at about 9.30pm when she was approached by a man. The man sexually assaulted her but ran off when she fought back.

This latest incident was reported to us on Monday afternoon (16/3).

Police are also investigating a potential connection between these two offences and an assault on a woman in Durdham Park, at around 9.50pm on Sunday 1 March.
In this incident, the victim was approached by a man who grabbed her arm but she managed to free herself and run to her car. She was shaken but unharmed.
Investigating officer Det Insp Peter Highway said:
"We're investigating three assaults on women in the Clifton and Durdham Downs area of Bristol. Two of the women were sexually assaulted.
The victims have been left traumatised by what's happened to them and we're ensuring they have access to expert help and advice.
They've shown great courage in coming forward to report the offences to us.
The circumstances and locations of these incidents suggest these offences may have been committed by the same man but this is still under investigation.
We're doing all we can to identify the person or people responsible, including drafting in extra patrol resources.
The man we're looking for is described as a young adult, possibly in his twenties, tall, with a stocky build and a tanned or dark complexion.
I would encourage anyone who has been in the Clifton or Durdham Downs area, particularly around Stoke Road, Upper Belgrave Road and Durdham Park, around the time of these offences to come forward if you saw or heard anything suspicious.
If you've experienced anything similar or have observed anyone acting suspiciously around these areas on other days, please let us know."

Neighbourhood Inspector Mark Runacres said:
"Clifton Downs is a popular location for walkers and the network of pathways are widely used.
We want to make people aware of these incidents and ask them to follow the regular personal safety advice we give out, including keeping to well-lit areas at night.
If any members of the local community are concerned or worried then please contact the local neighbourhood team via 101."

If you can help the investigation team, please call Bristol Investigations via 101 and quote reference 26848/15.