Taser Officer Cleared of Misconduct
5 September 2018, 11:53 | Updated: 5 September 2018, 12:19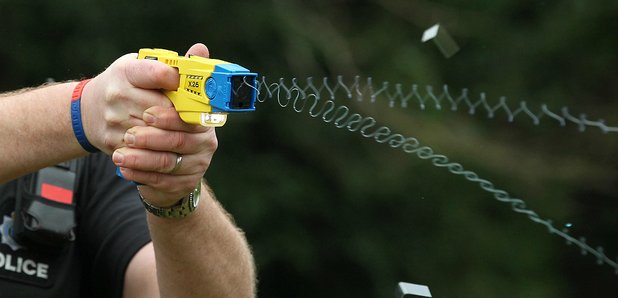 A police officer who used a taser on a race-relations adviser in Bristol has been cleared of misconduct.
PC Claire Boddie faced a police misconduct hearing, relating to the deployment of a Taser on former Avon and Somerset Police race relations advisor Judah Adunbi in the Easton area of Bristol in January 2017.

Following the misconduct hearing, Chief Constable Andy Marsh said:

"The panel, which is led by an independent Legally Qualified Chair, has heard all the available evidence over the past two days and has cleared PC Claire Boddie of misconduct.

"Following this outcome, I'd like to recognise the significant impact this incident has had on Judah Adunbi and regret the distress he's experienced over the past year-and-a-half.

"This was a very difficult situation and I clearly wish it had never happened. It's always regretful when cases of genuine mistaken identity occur and we'll take all the necessary steps to make sure this doesn't happen.

"The initial incident, subsequent court case and misconduct proceedings have had a profound impact on all of us, especially PC Boddie. The decision to clear her of misconduct was made by a panel of experts, led by an independent chair, following a hearing held in public.

"I know we make mistakes, everyone does; we're all human. We're continuing to work against a backdrop of increasing demand, escalating complexity of crime and rising levels of vulnerability and need. These aren't excuses, it's just important to understand the context around the pressures we're facing.
"I think this is an important moment to reiterate our absolute commitment to becoming a police force more representative of the communities we serve.

"Under-representation is a societal issue that's much wider than the police, but we're taking many positive steps to addressing this imbalance, including some pioneering and progressive work being carried out by our Inclusion and Diversity team and staff associations. It's having an impact. Between October 2016 and March this year, 14 per cent of our student officers were from a BAME background, compared to a national average of 11 per cent.

"We're asking for the community to keep working with us. Help us become a more diverse police force and break down barriers so we can be truly reflective of our wonderfully diverse communities."