Bristol: Becky Watts Investigation
10 March 2015, 12:36 | Updated: 10 March 2015, 13:01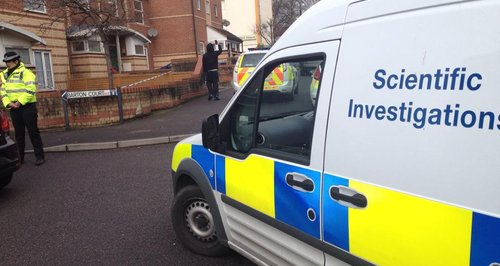 Avon and Somerset Police have confirmed that a laptop, tablet and mobile phone which went missing along with teenager Becky Watts, have been found.
The force has added that the ''detailed investigation'' was likely to continue for ''several weeks'' through specialist forensic examinations.
Lead officer on the case, Detective Superintendent Liz Tunks said: ''There is likely to be ongoing police activity at properties in St George and Barton Hill for the next couple of weeks.
There are specific forensic examinations which we need to complete to help establish exactly what happened to Becky.
We'd like to reassure the local community that our primary aim is to conduct a meticulous and exhaustive inquiry into Becky's death and even though there have been charges brought in this case, it continues to be an active investigation.''
Police have charged a total of six people in relation to the murder investigation.
Karl Demetrius, 29, Donovan Demetrius, also 29, Jaydene Parsons, 23, all of Barton Court, Bristol and James Ireland, 23, of Richmond Villas, Avonmouth, have all been charged with assisting an offender.
Becky's stepbrother Nathan Matthews is accused of murder and due at Bristol Crown Court on March 26th.
His girlfriend, Shauna Hoare, 21, is set to appear at the same court in April charged with perverting the course of justice.





According to the charge sheet, Matthews is charged with the "murder of a person aged one year or older, namely between February 19 and March 3, murdered Rebecca Watts''.

Hoare is charged with perverting the course of justice between February 19 and February 28, namely that she "consistently lied to the police which had a tendency to pervert the course of justice''.





Becky, described as "wonderful'' by her family, vanished from her home in Crown Hill, Bristol, at 11.15am on February 19.

Avon and Somerset Police launched a huge search operation - involving six police teams each day - after she was reported missing the following afternoon. On Monday night, detectives received information that Becky's body had been "cut up'' and they attended a house in Barton Court, Barton Hill, Bristol.

Body parts were discovered at the address, which continues to be combed by forensics teams. A private ambulance was seen leaving the property on Tuesday afternoon.

Bouquets, teddies and cards have been left at the family home and at the site where body parts were found.