Two More 'Shaun In The City' Designs Revealed
5 June 2015, 01:00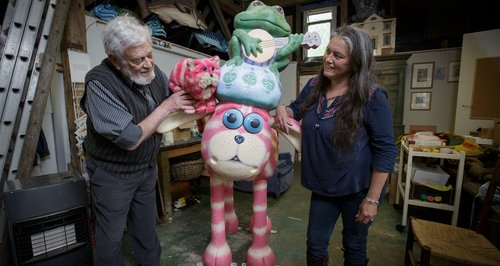 With just one month to go until the 'Shaun in the City' flock arrives in Bristol – two of the trail's celebrity designs have been revealed!
The eagerly-anticipated charity sculpture trail will feature 70 individually-designed sculptures of Aardman's Shaun the Sheep. The sculptures will be installed in iconic locations and green spaces all across Bristol from 6 July until 31 August, including Clifton Suspension Bridge, Bristol Temple Meads Station, Ashton Gate Stadium, Snuff Mills and Horfield Common, before being auctioned to raise funds for Wallace & Gromit's Grand Appeal, the Bristol Children's Hospital Charity.

The Bristol trail follows the hugely popular 'Shaun in the City' trail in London earlier this year. Hundreds of thousands of visitors visited the 50 Shaun the Sheep sculptures installed all over the capital, with the trail extended for an extra week due to overwhelming public demand.

The Bristol trail features 70 brand new sculpture designs, each created by a different artist, designer or celebrity – including Peter Firmin, the creator of another much-loved British animated character, Bagpuss.
Peter painted the sculpture with his daughter Emily, an artist and sculptor (both pictured above with Bagpuss Shaun). Emily also played Bagpuss' owner in the television series when she was eight years old. Peter said:
"Emily and I have never worked together before as our work is normally on a totally different scale. She makes large papier mache sculptures, and knows about painting sculptures of this scale and size, so I asked her to help me with 'Bagpuss Shaun'.
She helped me work out how to paint such a large sculpture, and helped painting the legs, as I found it difficult at my age to bend down to reach them. She also helped me with the ragging technique used to create the furry texture on Shaun's body.

We painted 'Bagpuss Shaun' in my barn, where I built Bagpuss' Shop and the Clangers' planet. 'Bagpuss Shaun' is six feet tall with Gabriel the Toad on his head, so it was the only place big enough!
Bagpuss has never been forgotten and I hope that 'Bagpuss Shaun' is a popular part of the 'Shaun in the City' trail. It was great fun to create him and good to know it is in aid of such a good cause."

'Bagpuss Shaun' will be on display at Cabot Circus during the trail.

Peter is joined by Wayne Hemingway, the acclaimed British designer behind fashion label Red or Dead. Wayne is well-known for his playful and colourful creations. True to this signature style his sculpture, 'Sheepish', sees Shaun disguised as a bright pink poodle.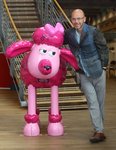 Wayne said:
"It was a no brainer to get involved in such a fun project, which gives so much pleasure to people and benefits such a wonderful cause. Creating this sculpture for 'Shaun in the City' has been a blast.
I love it when on those rare occasions you see a poodle with a pink "do" being walked in the park, and thought that Shaun may want to disguise himself "sheepishly" as a giant pink poodle with a "do". The sculpture proves that he would. We love coming to Bristol and working with Unite Students, one of our favourite clients, and am looking forward to visiting 'Sheepish' during the trail."

'Sheepish' will be located at Temple Church Gardens.

Nicola Masters, director of The Grand Appeal, said:
"We are all so excited to unveil Peter Firmin and Wayne Hemingway as the first celebrity designers on our Bristol trail. Bagpuss is a truly timeless character loved by generations of all ages, and we loved the idea of a sculpture that combined his familiar pink stripes with a modern-day classic character, Shaun the Sheep!
Wayne is one of Britain's brightest design talents, and we just knew he would use Shaun as a canvas for something really creative. His bright pink poodle, 'Sheepish', will certainly be very hard to miss on the streets of Bristol!"

The Grand Appeal previously organised the phenomenally successful 'Gromit Unleashed' trail in Bristol in 2013. The 80 sculptures of Wallace's canine sidekick were visited by more than 1.2million people, and raised over £2.3 million for the charity at auction.

Nicola Masters continued:
"Our London trail was so popular that we extended it for a further week, now there's just a month to go until the new flock arrives in Bristol. After the fantastic success of 'Gromit Unleashed' two summers ago, we know how much excitement there is in Bristol for Shaun to arrive.

We are very grateful for the support Bristol showed for Gromit, and for the Grand Appeal. We hope people take our Shaun sculptures to heart in just the same way, helping us to continue to raise vital funds for Bristol Children's Hospital."

Visitors will be able to track down all 70 'Shaun in the City' sculptures by picking up a free trail map from points all over the city, available once the trail starts. You can also download the official 'Shaun in the City: Sheep Spotter' app with all proceeds to the charity.

The 120 sculptures from the Bristol and London 'Shaun in the City' trails will go on display in the Great Sheep Round Up Exhibition in Bristol this autumn, before the whole flock goes to auction. Proceeds from the sale of the 70 Bristol sculptures will support The Grand Appeal, the Bristol Children's Hospital Charity.