Bristol: Women Talk Ovarian Cancer
3 March 2014, 06:00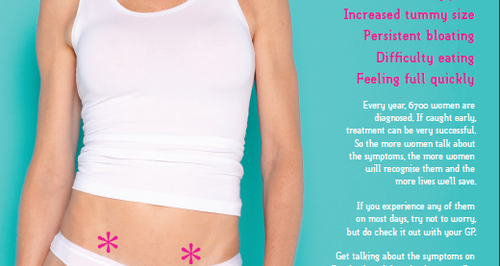 Women across Bristol will be finding out more about ovarian, as well as other female cancers, during March in a bid to cut the high death rate from the disease.
Ovarian cancer, the fifth most common cancer for women in Bristol, currently has a poor mortality rate compared to other cancers with less than half of patients surviving at five years from diagnosis.

Bristol's public health team is running a £35k campaign in communities and with GPs, and Pharmacies through Ovarian Cancer Awareness Month to improve the opportunities for earlier diagnosis of the disease. Activities include the launch of a new diary to help women present their symptoms to GPs, six community events for local residents to come and talk about cancer, learn more about signs and symptoms of all female cancers and what to do about them. The activities are supported by radio advertising, information cards in surgeries, pharmacies, and libraries and a new website, www.bristoltalkscancer.co.uk

Assistant Mayor for Health Cllr Barbara Janke said:

'I want to see more women become familiar with the signs and symptoms of ovarian cancer, just as they are of breast cancer thanks to years of targeted campaigning. If it is found at an early stage there is a much better chance of survival so our new campaign is aimed at helping women to understand their bodies and present any symptoms in a comprehensive way to health professionals.

'It is the sort of disease that GPs may only see once in their career so we're also using doctors who are familiar with ovarian cancer to promote awareness in the profession.

'While we are in communities talking about women's cancers through March we'll be recruiting new 'cancer champions' to help raise awareness and become a point of contact in their localities.'

More than half of women with ovarian cancer are diagnosed in the later stages of the disease.

Common symptoms include:

• Increased tummy size or bloating;
• Feeling full quickly and /or loss of appetite; and
• Needing to pass urine urgenty and/or more often than usual
• Persistent pain in the tummy or lower part of the tummy

Sue Mannix campaigns in Bristol on behalf of Ovacome, the ovarian cancer support charity. Her mother died from ovarian cancer six years ago at the age of 73. Sue said:

'We had no idea about ovarian cancer, had never heard of it really and did not know it was called the 'silent killer'.
'Mum thought she was putting on weight and that seemed to be the only symptom. When she eventually sought help they were quick to make a diagnosis. Following surgery and chemotherapy mum's health was good for five years after which the cancer returned .
'Through my work for Ovacome I'd like more women to be aware of the symptoms and seek help at the earliest opportunity.'

Dr Catherine Maytum, lead GP at the Broadmead Medical Centre said:
'Although most cases of ovarian cancer tend to occur after the age of 50, it is important to remember that younger women can get ovarian cancer too.
'The incidence of this condition is rising so there is a need for greater awareness of ovarian cancer symptoms so women see their GP earlier and treatment can start sooner. Often in the early stages of the disease a woman may have no symptoms or only vague symptoms.

'Women should go and talk to their GP if they experience any of the following symptons persistently and frequently:
abdominal distension ('bloating'),
feeling full quickly on eating,
loss of appetite,
pelvic or abdominal pain,
increased urinary urgency and/or frequency.
In addition any woman of 50 or over who is experiencing new irritable bowel syndrome-type symptoms within the last 12 months should see their GP too, because IBS rarely presents for the first time in women of this age.'