£21Million on Temple Gate Layout Changes
18 February 2015, 08:24 | Updated: 18 February 2015, 08:25
The way people drive, walk, cycle and catch the bus around Bristol Temple Meads is going to completely change.
Bristol City Council's drawn out a vast plan for £21 million pound's worth of changes to the road layout.
One big change includes getting rid of the Temple Circus roundabout and replacing it with a traffic light controlled junction, to make the route more direct, simple and with fewer lights.
They've also got plans to reconnect the Brunel Mile so pedestrians only have to cross a major road once when they walk between Temple Meads and towards the harbourside.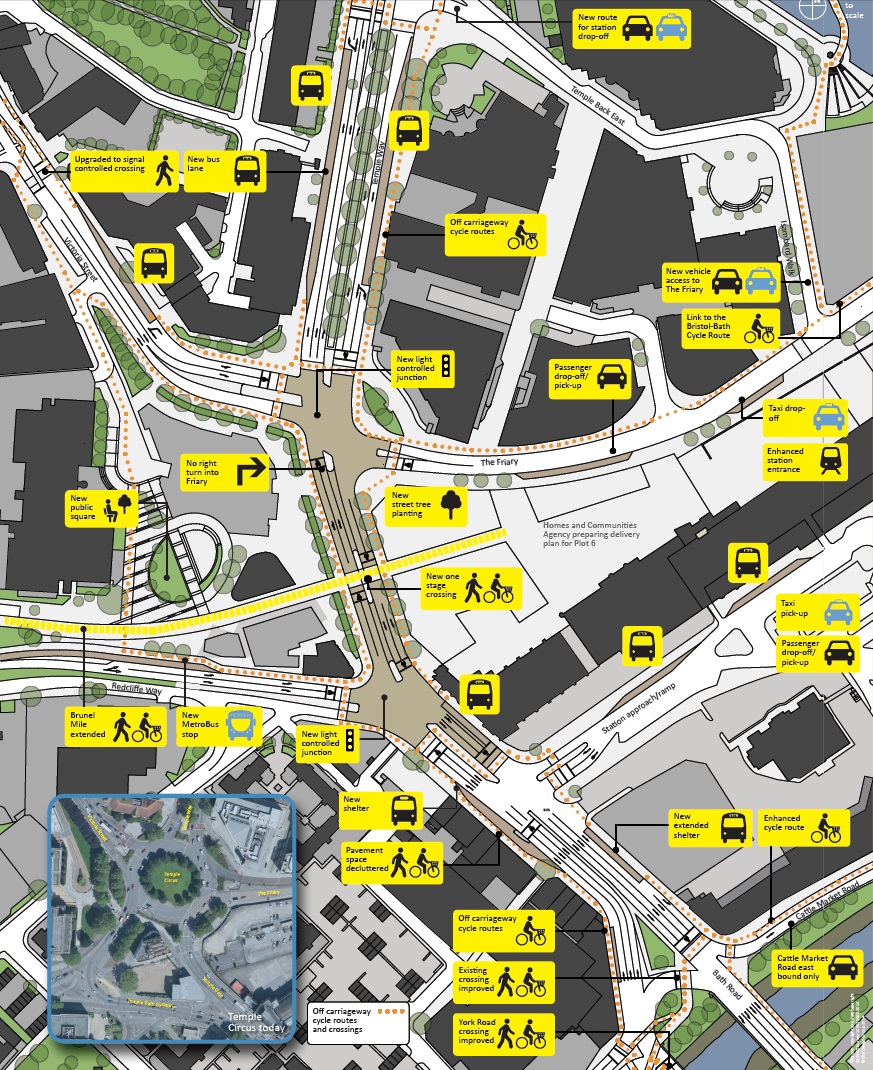 The full list includes:
• A more direct route for traffic with fewer traffic lights
• A new single wide crossing point for pedestrians and cyclists to replace the three road crossings between the station and the Brunel Mile
• Eastbound only traffic on CattleMarket Road to improve the flow of traffic at Bath Bridge junction
• Access to the Friary via a new road link from Temple Back East with a new drop-off point on the Friary for cars and taxis
• Space for new buildings and public square giving life to the area day and night
• Better public transport links with new and upgraded stops, better signage and a new Metrobus stop
• Improvements to cycle routes to better connect with cycle paths being built on Clarence Road and Cattlemarket Road and onwards to the wider Bristol cycle network.
The aim is to start construction at the end of 2015 and finish the road changes by 2017 and complete the whole project by 2020.
Councillor Mark Bradshaw, Assistant Mayor for Place including Transport at Bristol City Council, said:
"Creating a first class welcome to Bristol and better transport links around Temple Meads has been a long held aspiration for the city. The area is one of the busiest in the city's road network and there is currently a poor quality route for pedestrians and cyclists travelling from the station to the city centre.
This scheme aims to address these issues and is the first step towards creating a better environment for pedestrians, cyclists and road users around this important gateway to the city. We want people to comment on these proposals to help us to develop these ideas into a final scheme. In time, as development takes place within the Bristol Temple Quarter Enterprise Zone, this area will become an integrated travel hub where people can easily and conveniently move between different modes of travel."
People who live in the area or regularly pass through Temple Gate are being asked to comment on the plans.
The deadline for comments is 18 February 2015 - find out more here.