Arena Plans Submitted For Planning Permission
30 November 2015, 17:30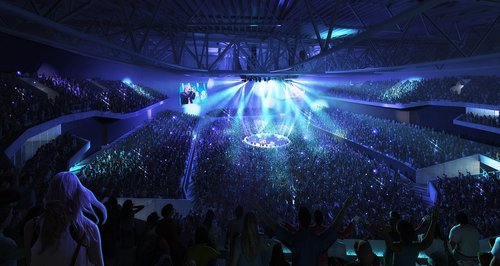 Proposals for the 12,000 capacity Bristol Arena have been submitted to Bristol City Council for planning approval.
More than 86% of people who responded to the recent consultation said they fully or broadly supported the project.
The plans have been developed further to show how event spaces in front of the arena can be used for performances, outdoor cinema, festivals and markets. Water jets will provide an area for play when events are not taking place and green terraces will create an informal seating area for picnicking or recreation.
The biggest worries raised during the consultation was around access to the arena site, so some changes have been made to the proposals including:
- A new widened cycle path and walkway from Three Lamps Junction on the A4 via a new bridge over the railway line to link with the Arena Terrace
- Park and Ride services for events of over 9,000 capacity (instead of 10,000, proposed in the consultation)
- Additional shuttle trains to run between Bristol Temple Meads and Bristol Parkway station for the largest 12,000 capacity events to reduce the number of cars driving into the city.
- Cycle parking increased from 200 to just over 250 spaces
- Temporary road closures of Cattle Market Road and Albert Road between Stanhope St and Feeder Road for large events on weekday and weekend evenings to ease pedestrian and cycle access.
The council has also committed to putting funding aside to cover set-up costs of parking controls in vulnerable residential areas and extend the hours of existing RPS controls as necessary. Proposals will be worked up in consultation with local people so that controls can be in place by the time the arena opens.
Work is due to start next year ready to open in 2018.
Two public information sessions are being held in December with a presentation of the submitted proposals and an opportunity to ask questions of the project team on Tuesday 8th, 7pm at the Engine Shed and Thursday 10th, 7pm at Totterdown Baptist Church.
You can also see more information online HERE