Becky Watts Murder - Stepbrother Jailed For Life
13 November 2015, 14:35 | Updated: 13 November 2015, 15:20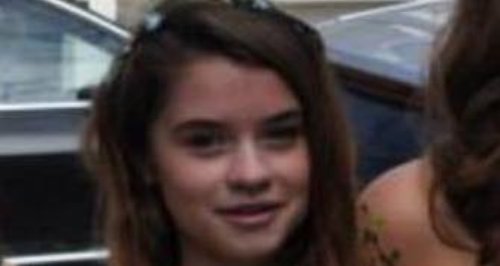 Nathan Matthews has been jailed for life, with a minimum of 33 years, for the murder of his stepsister Becky Watts.
His girlfriend Shauna Hoare, who was convicted of manslaughter, has been jailed for 17 years.
Matthews was also found guilty of conspiracy to kidnap and had previously admitted perverting the course of justice, preventing Becky's lawful burial and possessing a prohibited weapon.

Hoare was also found guilty of conspiracy to kidnap, perverting the course of justice, preventing Becky's lawful burial and possessing a prohibited weapon.
The judge, Mr Justice Dingemans, was in tears as he started paying tribute to Becky's family at the end of his sentencing remarks.

Passing sentence, he said: ''I am sure, on the evidence that was adduced at the trial, that the planned kidnap of Becky was for a sexual purpose.

''It is apparent involving as it did her proposed abduction for a sexual purpose but in my judgment it does not require a whole life order in the circumstances where Nathan Matthews had been of previous good character and had directed the police after a long delay to Becky's remains.

''This is not in any sense to diminish the loss suffered by Becky's family.

''In my judgment the behaviour of both Nathan Matthews and Shauna Hoare in feigning concern with the family as the family desperately searched and looked for Becky is a further and serious aggravating feature.

''In my judgment the appropriate sentence for Mr Matthews is a mandatory life sentence with a minimum term of 33 years.

''This means that Mr Matthews, as a 28-year-old man, will be 61 before he might be considered for release and the reality is that he might never be released.''
Karl Demetrius, 30, and Jaydene Parsons, 23, of Barton Court, pleaded guilty to assisting an offender at an earlier hearing. They will now be sentenced early next year at a date to be confirmed.

Before sentencing the court heard victim impact statements from Becky's mother and father:
Statement from Tanya Watts:

I am Tanya WATTS, the mother of Rebecca Marie WATTS born 3rd June 1998. She was known to me and others as Becky.

This is my Victim Personal Statement (VPS) about how Becky's murder has had an impact not only on my life, but also that of my son, Daniel WATTS, and my mother, Pat WATTS. Becky has always very much been a big part of our lives since the day she was born. Mum was in the hospital with me when I had Becky and was the first person to hold Becky. Danny was always a lovely, protective big brother to Becky. Yes they had their little fallouts as teenage brothers/sisters do; but whether they were with me or their Dad, the two of them always lived with each other and were there for one another.

When I had Becky, it was in hospital and I had to have a caesarean section. It was a little complicated, Becky didn't want to come out, she was happy where she was. So when they finally brought her out, she was screaming the place down. I always said,''The world knew about it when Becky was born. And they will know about it when she is a teenager!'' I never thought it would be like this. Now the world knows all about her death too, in every horrific detail.

I don't actually know what I am meant to say. People always ask, 'How are you?' and I don't know what to say because I am not sure how I am feeling. My beautiful, kind, funny, loving, loyal, feisty, creative daughter has been murdered. Every day has been a living nightmare. And if that wasn't bad enough, for some reason that I will never ever be able to understand, after my daughter was murdered she was mutilated, cut into pieces. It is like the worst of all horror movies, but this is real; this is my child, she was only 16. How am I meant to cope with that? What can anyone say or do to help me come to terms with that? It just goes round and round in my mind; all the time, it is never-ending. I don't want to remember Becky like this but the thought of her being dismembered is always at the forefront of my mind.

The 19th of February 2015 is the day that we have been told that Becky was killed. That means that Becky was murdered on Danny's 20th birthday; it should have been a day to celebrate. How is he ever expected to get over that? How is he ever going to celebrate any of his birthdays again? He can't; none of us can celebrate his birthday again. That date will always be etched in our minds as the day that Becky would have been so scared seeing this person that she thought of as a brother, attacking and killing her. There is nothing to celebrate anymore, not without Becky.

On 3rd March 2015 I was told that Becky had been found and that she had been dismembered. I had already been having difficulty sleeping with her disappearance, but this made sleeping impossible. In the end I had to rely on one of my Family Liaison Officers (FLOs) to contact my GP surgery on my behalf as I could not function. I could not bring myself to say what had happened to Becky and how Danny and I needed help. One of the doctors did call back and this began a long list of contact that Danny and I have had with them to help us with our problems. These have included anxiety and depression issues, trouble sleeping and trouble eating; all of which we have been prescribed with a variety of tablets for. We are also both being treated for different medical problems which are being massively aggravated by the stress of dealing with Becky's murder and the subsequent investigation/Court case.

My mum, Pat, has also had to go to the doctor for help. Like us she has found it difficult sleeping and has been prescribed tablets to help with this. On the outside my Mum has seemed very strong and I know that Danny and I have relied on her heavily. But there are times when things become too much for Mum and she almost hides herself away. She has no energy or desire to get up and do anything. She feels sick, completely run down and cannot even complete normal, every day tasks. These are feelings that both Danny and I share. Mum and I have commented to each other that we both get angry easily and can be short-tempered. I have lost track on the amount of times I ring up either my FLOs , my Homicide Support Service Caseworker or others to 'have a rant', as I call it. I keep thinking about Becky, her situation and how she came to be dead and I am furious. I have so many questions that I just go on and on and on. I can't rest until I know what has happened, and even then I am sure I still won't be able to ever understand why it happened.

On 5th March 2015 we were given the opportunity to see Becky one last time. It was too much for Danny and, as his mother, I am glad that he didn't come. He is so sensitive that it would have completely broken him. I went to Flax Bourton Mortuary with my Mum and Auntie Lyn, (my Mum's sister), supported us both. Initially, I wasn't sure if we would be able to see Becky because of what had been done to her; but I know that the Mortuary staff worked really hard to give us this opportunity. Even then, I still wasn't sure if I could go and see Becky. I was frightened about what I might see. It would always be upsetting to see your child after their death but to see Becky after she had been treated in such a barbaric way - I just didn't think I could physically go through with it. I knew that my Mum would see her no matter what; but I felt weak, I don't have my Mum's strength. In the end I asked my FLOs to go and see Becky first. I said to one, you're a mother; you look at her for me and tell me whether I should see her. I can't believe I was having to have these kind of conversations. How is any of this right?

In the end my Mum, Lyn and I all saw Becky together. It was a very private, personal time that I don't really want to share with anyone. However I will say that the impact of seeing Becky reduced my Mum to tears; this is the only time I have seen her so visibly upset. The image of Becky there, with a bandage around her little wrist trying to cover up the cut marks; that image haunts me.

As a family we then suffered further, waiting for Becky to be released in order for her funeral to take place. Different tests had to be completed and this all took time. When the time did come for Becky's funeral, it was a real mixture of different emotions. I will always be grateful that public made generous donations allowing for a beautiful send off for Becky, but I couldn't help but be angry, hurt and upset that actually Becky's big day should have been her wedding and not her funeral. Becky has been robbed of her future and we have been robbed of all of those future milestones we should have been able to share together.

The impact of having to deal with Becky's funeral and burial has also led to difficulties between us and how we get on with Darren and Anjie, Becky's Dad and stepmum. We have always had contact and been civil with each other because of the children. I have often been to their house for family gatherings and even went to their wedding. However, I find it very difficult to get beyond that Nathan is Anjie's son. I know that Darren is also grieving but there have been times when we have clashed since Becky's death. We had different views on the funeral and even now we have different views about the headstone – so the problems are ongoing. The stupid thing is that it was always Becky who liked us all to be together and made the efforts to have all of her family together on special occasions. Now it feels like her death is dividing us.

Becky's death has left a massive hole even in just ordinary everyday things. I can't believe that I will never have her and Courtney come round my house, going through the cupboards like a pair of locusts! I still have the chicken in the freezer that I was going to do for their Sunday roast; I still have Becky's pocket money in an envelope that she was due to collect around the time she died. The hardest thing is I can't believe that I am never going to see her again.

We have all continued to suffer since Becky's funeral. Physically both my Mum and I felt absolutely shattered, completely wiped out like our bodies went on shut down. We have also had to deal with 'first' without Becky. I had my first Mother's Day without her and we had the first of Becky's birthdays since her death. We think about Becky all the time but they are days like these when we feel the loss and the isolation even more. It is Christmas time soon it will be our first one without Becky. It was always funny listening to her nagging my Mum about the present she wanted or asking me if she could have a present early, because she couldn't wait until Christmas.

I have also become more anxious about Danny since Becky's death. If he is late coming home then I get frantic, worrying where he is and whether something has happened to him. I don't want to lose my other child too.

Hearing evidence throughout the trial has been incredibly difficult. Becky must have been so scared – thinking she was safely resting in her own bedroom to then be attacked like that, by someone that she regarded as family. Knowing that her last moments were filled with fear and that she would have fought for her life it is just unbearable for us; I can't get it out of my mind. I know that my Mum too has suffered from very clear 'flashbacks' by this I mean clear images of Becky being suffocated and her head covered with a plastic bag have flashed into her mind in a really intrusive way.

My Mum says that she no longer feels shocked by what happened. She has listened to the evidence, followed the case and her overwhelming feeling now, having heard everything, is of feeling dead inside. She says there is nothing there for her. She has an exterior where she tries to interact with people on a daily basis and carry on with life, but underneath it all she feels dead inside.

It made sense to me that Becky would have fought for her life. That was the kind of girl she was. Sometimes she had a tough exterior but those people who really knew her, (and only a few people truly knew Becky), knew that underneath it all she was a big softie. Yes she could watch a horror movie without flinching; but equally when she watched a film like Marley and Me she would cry her eyes out.

The impact of Becky being taken from us, murdered, dismembered and hidden is massive; trying to describe it is difficult. I often hear myself talking about Becky and asking questions about her death but it is like I am talking about someone else, not my baby girl. It is surreal. But the actual reality is those people who were involved in Becky's murder, dismemberment and concealment have left us with a lifetime of emptiness, continuing nightmares of her final moments and a grave to visit.

Statement from Darren Galsworthy:

My name is Darren Galsworthy and I am the father of Rebecca Watts now know as 'Bristol's Angel'.

Our Bex was a child who through no fault of her own needed constant reassurance, love and cuddles in her formative years.

She soon clung to my wife Anjie who became not only a doting mother but Becky's best friend. Anjie's love was so immense nobody lost out. It didn't matter that we were a mish-mash of gene pools, we were a strong loving family who shared and supported each other.

We will never understand why this happened but we now believe we were just disposable pawns in a plot borne out of hatred, jealousy and greed.

The heartless, cold and calculating perpetrators of this despicable act of evil can never be forgotten or forgiven. This act of violence sent shock waves through not only our family but the whole country and further afield.

When the news came that two people had been arrested and it was now a murder inquiry, our entire world collapsed.

Police informed us that body parts had been found and then we were told who did it. I simply don't have the vocabulary to accurately describe the searing pain and anguish Anjie and I felt at that time.

The only way I can describe it is like being cast off a cliff into a bottomless depth of despair and non-belief.

These family members sat in our home knowing what they had done and watched my very public descent into madness and despair. They said nothing and carried on with the pretence of helping us and showed no emotion at all.

We would not have got this far if not for heavily medication and the unyielding support from the community of Bristol.

The betrayal we feel is insurmountable.

It would have been much kinder to have killed us all, than to have to cope with the aftermath of this crime.

I've had to watch my loving wife's daily decline in her ability to function or to do the easiest of tasks. She is now solely reliant on me to get through each day.

We both feel we are just marking time off until our demise, everything beautiful in our lives has been ripped from us in one selfish act of violence.

The pain cuts deep into our families. It has destroyed long standing relationships and marriages, our children have become isolated and bullied at school.

We can't go outside the house without people pointing at us or making comments which they believe we can't hear.

Not only did they cruelly rob Becky of life, they also took her dignity in death and did all this on Danny's (Becky's brothers) birthday, now not a day he can truly celebrate.

When I close my eyes to sleep, I see Becky's death over and over again. I see what they did to my child.

I hear her cry out 'What are you doing?' Then I feel her terror as she realises they are not going to stop and she is about to die. I feel her heart racing. I see all this and I am powerless to help her.

All too frequently I awake drenched in sweat and physically shaking.

Becky was so small and fragile, she never stood a chance.

These nightmares consume my every thought, like advance cancer. They haunt my days and terrorise my nights. This is the reality of what transpired that day.

A legacy I cannot escape. This is life now.

At this time, I pray that the law and justice will go hand in hand and the sentence will fit this evil act of murder and butchery.