Bristol Airport's Plans To Expand
23 June 2015, 08:45 | Updated: 23 June 2015, 10:11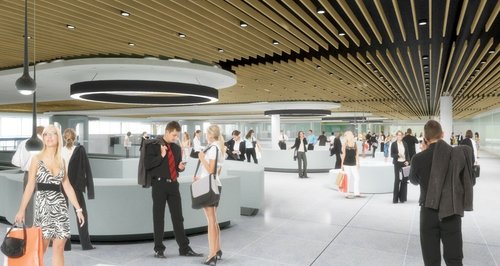 Bristol Airport have announced plans for a £24m extension of the west terminal, to help transform the security search process for passengers
It comes weeks before the opening of the new departure lounge and is the biggest construction project at the Airport since the current terminal building opened in 2000.

State-of-the-art technology will be brought in to a significantly enlarged security area to give a faster, more efficient experience.

The 9,000 square metre structure is approximately two and half times larger than the £8.5m east terminal extension set to be completed next month and will also create a bigger baggage reclaim area, customs facilities, arrivals retail, and meet and greet area, easing congestion and improving services for arriving passengers.

Work on the west terminal extension will get underway in a matter of weeks and is scheduled to open in summer 2016.
When completed it will have 10 lanes in the central search area alongside two additional security channels in a dedicated Fast Track zone.
A bigger preparation area and significantly longer 21 metre lanes will enable more passengers to prepare for inspection simultaneously, reducing wait times.

Bristol Airport is in discussion with security technology providers to ensure the new facility maximises the use of state-of-the-art equipment.
Robert Sinclair, Chief Executive at Bristol Airport, said: ''Once completed, this major development will take the total investment in our terminal and wider airport infrastructure since 2010 to over £120 million. Not only will the west terminal extension ease the congestion we are experiencing at times this summer as a result of high passenger volumes, it will create a more attractive and comfortable environment and help to remove some of the stress sometimes associated with air travel.

''This is going to give us a clear advantage over the competition by making it more attractive for airlines to fly from Bristol, and it is a significant step towards achieving our vision to provide passengers from the South West and Wales with a world-class customer experience when flying in and out of their local airport.''

Chris Ware, Head of Security at Bristol Airport, said: ''With this development we are responding to changes in security requirements, airline business models and passenger behavior which have resulted in a greater quantity of hand baggage being carried through our central search area. The west terminal extension enables us to design new layout and processes tailored to meet this challenge but with the flexibility to adapt to evolving security needs without inconveniencing passengers.

''In combination with the introduction of innovative technology, some of which will be new to the UK market, the new facility will enable us to transform this vital part of the airport experience without compromising stringent compliance requirements.''