Great Western Air Ambulance Celebrates 7th birthday
3 June 2015, 05:00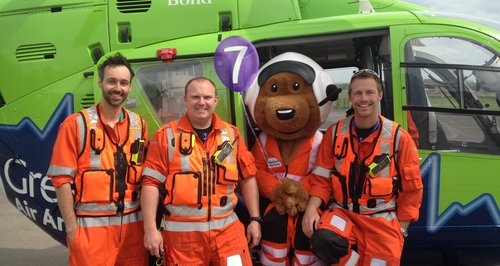 Families helped by an air ambulance charity have taken part in an emotional film to mark it's 7th birthday.
The Great Western Air Ambulance formed in 2008 and the crew attended their first mission on June 3rd.
Since then the team, who are based at Filton airfield, have attended 14,323 missions across Bristol, Bath and North East Somerset, South Gloucestershire, Gloucestershire, North Somerset and parts of Wiltshire.
The film includes the stories of people who have had first hand experience of their vital work.
6 year old Finlay Connor was killed and his mum Niki seriously injured when they were hit by a bus outside Woodborough Primary School in Pewsey in 2011.
Trevor Hing was saved when his Heart stopped three times after suffering a heart attack in Fairford in March last year.
Jaime Barker suffered a broken leg and head injuries when he was knocked off his bike in Bristol: