Man Jailed For Bristol Flat Arson
13 June 2018, 11:41 | Updated: 13 June 2018, 11:47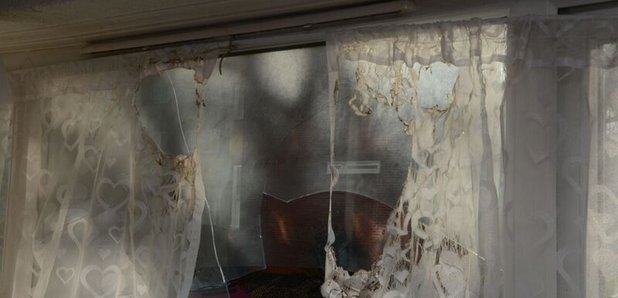 A man has been sentenced to 5 years and 10 months in prison for setting fire to a flat while the people who lived there slept.
55-year-old Alan Smith from Briar Way in Fishponds was convicted of arson reckless as to endanger life.
At 4am on 7 December 2018, Smith drove to Nelson House Flats in Staple Hill with homemade petrol bombs.
He targetted a ground floor flat, as he had an ongoing feud with one of the people who lived there.
Smith threw the petrol bombs at the bedroom window, which set fire to the window fram and the net curtain inside.
Detective Carl Spicer said: "Once the double-glazed window smashed, Smith threw a bottle containing more petrol into the flat. Fortunately it did not ignite but petrol was strewn across the bedroom. Smith only stopped throwing petrol into the flat once his own hand caught on fire and he left a burnt glove at the location as he ran away."
Smith left a number of other petrol bombs at the location which he did not throw.
Thankfully, both people inside the flat managed to escape unhurt.
During a search of Smith's home, another petrol bomb was located at the rear of the address.
Detective Spicer said: "Despite the ongoing feud between Smith and the occupant of the flat, there was no justification for this deliberate act of undue recklessness. A considerable amount of time and planning went into the preparation for this attack. He attended the location at a time when people would have been sleeping and took with him a large number a petrol bombs. There was enough combustible material within the flat that it could've easily resulted in fatal consequences for those in the flat and those in surrounding flats. It was only luck that the fire did not take hold. Smith showed a complete lack of self-control and his actions could have resulted in devastating effects. I hope that this sentence shows the public that it is never acceptable to take the law into your own hands."