Police Hunt Missing Convicted Murderer
27 October 2014, 16:14 | Updated: 27 October 2014, 17:09
A convicted murderer has absconded with another prisoner from Leyhill prison in South Gloucestershire.
30 year old Daniel Shankley is serving a life sentence after being convicted of murder in 2001 and 29 year old Daniel Wynne was given a two year sentence for assault.
The two men were last seen at about 12.50pm and were due to return for roll call at 4.45pm on Saturday (25th October) afternoon.

They're thought to have absconded together but it is possible they may have split up after they left HMP Leyhill.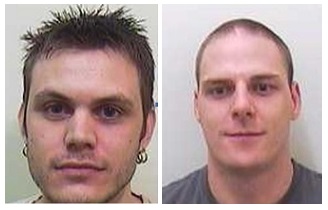 Daniel Shankly is 6ft 3ins tall of slim build, spikey hair, clean shaven and has a tattoo on his right upper arm with the words "Rip Nan."

Daniel Wynne is 5ft 7ins tall of stocky build, shaved head and speaks with a Welsh accent.
He too has a tattoo on his left arm with the name "Danny."
Daniel Shankly is known to have links with Weston-super-Mare, while Daniel Wynne has links to the Caerphilly area of South Wales.
Avon and Somerset police want anyone who spot both or either of the men, to contact us via the 999 emergency number.
They're advising anyone spotting the men not to approach them but call us immediately.