Somerset: New Flood Work To Begin
15 March 2015, 09:28 | Updated: 15 March 2015, 09:30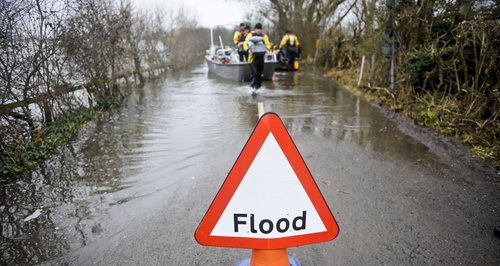 The second part of a major flood-prevention scheme on the Somerset Levels will begin next month.
The County Council-led works are due to start on 7 April and will see four new culverts will be put in under the A372 at Beer Wall, so when it floods the culverts will allow water to pass beneath the road rather than over it.
As well as protecting the road they will pave the way for Environment Agency work to increase capacity of the Sowy and reduce the flood risk over a wide area.
The aim is to complete the phase two work within three months but progress could be affected by weather conditions. Road closures and diversions will be put in place for 12 weeks but extended if needed.
The scheme is being carried out as part of the multi-agency Flood Action Plan, the work of which is now overseen by the new Somerset Rivers Authority (SRA).
Councillor John Osman, Chair of the SRA and Leader of Somerset County Council, said: ''This is a major scheme that will play a key role in reducing the likelihood, duration and impact of any future floods. I appreciate that the road closure will, again, disrupt motorists but we ask for patience and understanding while we carry out this important work.
''Many organisations came together for this scheme and did a great job in getting the first phase of works completed before Christmas. I'm delighted that we can now finish the job.''
As well as keeping the A372 open, the three-stage Beer wall scheme is designed to reduce flood risk in the Sowy and Kings Sedge moor Drain river systems.