Who Won Their Wedding Celebrations At Wookey?
Only a kiss stood between one lucky couple and winning their wedding celebrations in the caves at the unique and magical Wookey Hole!
Looking for a wedding day with a difference, something truly out of the ordinary; then how about heading deep underground into the caves at Wookey Hole for a truly unique experience?
Surrounded by clear pools and soft candlelight, you can make your vows in one of three magical and mysterious chambers, each cave carved by the River Axe over millions of years. Your special day really deserves a fairytale setting and Wookey Hole could be just what you are looking for.
Who won their big day at Wookey?
Our Wookey Wedding
Winners
Vicki & Chris

Our winners with
Heart Breakfast's
Ed, Troy & Paulina
We invited three finalist couples to join Heart Breakfast's Ed, Troy & Paulina at Wookey Hole to play Kiss In The Caves. The first finalist chosen, Chris, then had to kiss all three of the brides-to-be and try and identify his partner Vicki.
And he could certainly recognise his intended simply by a kiss, as he got it right straightaway to win their wedding celebrations! Vicki was overjoyed and jumped into his arms, when they both started crying as they had won all this:
Exclusive cave access from a choice of three chambers for the ceremony

Room hire for reception

Two-course Hog Roast for 50 people

Access to Wookey Hole including the Penny Arcade and Mirror Maze for guests
So, true loves kiss really is the only thing that stood in the way of this couple and their happy ever after!
Once you've said 'I Do' your Wookey Wedding experience can continue with unique photo opportunities in and around the caves, followed by delicious food at your reception in their circus themed restaurant.
In true Wookey style there's lots of weird and wonderful ways to add to the magic of your day, from welcome drinks in the Victorian Penny Arcade and hire of the Pirate Adventure Golf, to Circus Workshops and even a visit from the famous Wookey Witch herself!
And once the clock strikes midnight there's no need to hurry home, as your you and guests could retire to the 58 room Wookey Hole Hotel or one of the new Luxury Lodges with their own hot tubs.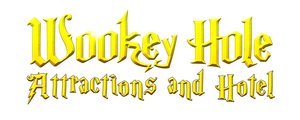 Wookey Hole Caves includes over 20 fantastic attractions in the one ticket price meaning it's a great day out this summer too as well as a fantastic wedding venue.
With access to Circus Shows, Kids Play Areas, Mirror Maze, Penny Arcade, the new 4D Cinema, showing "The Lost World" and much more, don't miss out this summer!
Wells, Somerset, BA5 1BB
Tel: 01749 672243