Ely Potato Race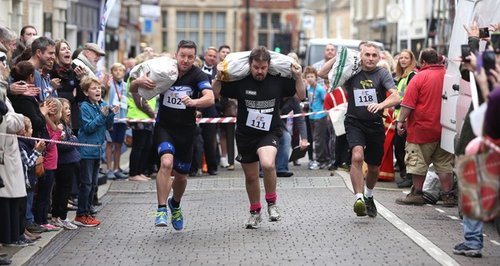 Spud-tacularly good fun as teams battle it out for Potato Race glory in Ely this weekend.
Teams will battle it out over the half-a-mile course laden with a 20kg bag of spuds, all of which had been grown by farmers in the Fens surrounding the city.
The race starts at 11am Saturday 10th October on Ely High Street. Also this year, the event features the Ely Schools Race!
The contest, now in its fourth year, sees teams racing from the Farmers' Market, on Ely's Market Place, to the end of the High Street, near the Cathedral.
So come along and cheer these runners as they take part in this fantastic event!
Last year
The two-man Ely Octagon Cycling Club team were crowned worthy champions, comfortably winning their heat before, in the final, powering away from runners-up Bodyshape Fitness in the dash to the line. The Ely Tri Club came in third.
Ely
The historic city of Ely, full of charm and beauty and home to one of the most magnificent cathedrals in England.
Market Place
Ely
CB7 4NP