Cambridgeshire: £20 Million School Funding Boost
13 March 2014, 12:19 | Updated: 13 March 2014, 13:12
Cambridgeshire, currently the lowest funded area for schools in the country, has been awarded an extra £20 million in government education funding.
The financial boost is expected to make its way into Cambridgeshire's schools from April next year.
The news was announced by Schools Minister David Laws.
Cambridge MP Julian Huppert said: "At last this government will do something about it where others haven't, said Julian, and on behalf of all those campaigners, particularly the Schools Forum and the Cambridge News, which have campaigned for many years, thank you.
Can I urge the Minister to make sure this actually happens??
Mr Laws said: "I congratulate my honourable friend for being such a robust campaigner for these changes; hardly a week has gone by over the last few years when he hasn't been lobbying me for fair funding for Cambridgeshire.
I know there are schools within this county which are at the moment in vision distance of other schools in other authorities which are funded in a totally different way.
That always was unfair and we are now addressing it.
Julian, who has campaigned on this issue for over a decade, led a Westminster debate on the schools under-funding issue and has been pushing ministers to act, said the seven per cent increase was welcome news after schools suffered years of financial neglect under successive governments.
Dr Huppert added: "Our children have been taught in schools that have been chronically short-changed for the last 30 years.
There is no excuse for treating Cambridgeshire differently to other parts of the country.
Our schools are doing a great job despite working against a backdrop of under-funding but they could do so much more for our children with a fairer settlement."
Cambridgeshire's schools were receiving much less than the average £600 per pupil per year less, putting them at the bottom of the nation's financial league table.
The new settlement will give a two form entry primary school with 420 pupils an extra £275 per pupil per year from £3,950 to £4,225
That means the school will receive a total of £115,500 a year more.
There is now a consultation, and in a bid to make sure the extra funding happens Julian has launched a petition calling on Mr Gove to implement the new settlement in full as quickly as possible.
Huntingdon MP Reaction
Huntingdon MP Jonathan Djanogly added: "The school funding system that we inherited from Labour is unfair.
It is a postcode lottery that results in pupils attracting very different levels of funding without good reason.
As part of our long-term economic plan this government is determined to deliver the best schools and skills for our young people so that they can get the skills they need to get on in life. This announcement is great news for schools throughout my constituency as it represents a huge step towards removing the unfairness in the school funding system; something that I have been campaigning on for many years.
However, this extra funding will not apply until 2015 and many schools in my constituency are saying that they cannot wait until next year for a fairer funding system.
I raised this point with the Minister in the House of Commons today when the announcement was made and I will continue to lobby Ministers on the issue of immediate funding relief for our schools."
Cambridgeshire County Council Reaction
Councillor David Harty, Cabinet Member for Education and Learning said: "We welcome this news of increased funding for 2015-16.
It acknowledges the dire financial situation Cambridgeshire's schools have been in for many years, as well as the tireless work that has been done by many people and organisations – particularly the Cambridgeshire Schools Forum - to raise the issue at the highest level.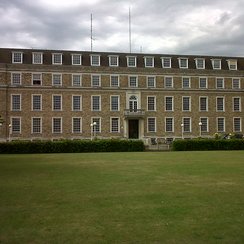 The extra funding is a step in the right direction – but there is a long way to go. Cambridgeshire has been chronically underfunded for many years and while today's announcement is good news, we need to continue our work to secure a fairer approach to funding schools in the long term."
Philip Hodgson, chair of the Cambridgeshire Schools Forum added: "I am pleased the Government has at last recognised the problem – but the extra money is needed now. This only starts to address the underlying low level of funding schools have suffered from for many years.
We are also still awaiting the long-promised consultation on the future of funding for schools.
Headteachers and governors throughout Cambridgeshire share the same aspiration - for a fairer system of funding to be introduced as soon as possible.
The costs of running a school are virtually the same throughout England and yet huge cash differences exist.
It cannot be right that two broadly similar schools, separated only by the authority boundary, can be funded so differently.
That is the issue that needs addressing on a permanent basis.
We all accept the country's economic difficulties and the challenges these bring, but the school students of today will play a huge role in the support of our nation in the coming years and must be given the funding to provide for a first class education now."