A14: Drunk Lorry Driver Jailed
5 September 2013, 14:10 | Updated: 5 September 2013, 16:04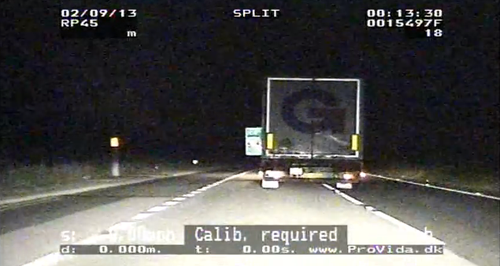 A lorry driver caught three times over the limit on the A14 in a 44 tonne truck has been sent to prison for 20 weeks.
Kestutis Ruplaukis, 53, was spotted driving erratically and was eventually pulled over by police on Sunday September 1.

PC John Mayor had been called to the stretch of the road between Northamptonshire and Huntingdon shortly before midnight.

Footage from the onboard camera in the police car showed the 44-tonne heavy goods vehicle swerving across both lanes of the carriageway.

He requested back up and prevented other motorists trying to overtake the lorry and risk a collision.

Ruplaukis was eventually stopped at Brampton Hut, but initially tried to resist arrest, kicking out at an officer.

He was found to have 97 micrograms of alcohol per 100 millilitres of breath. The legal limit is 35.

He admitted driving an HGV with excess alcohol and obstructing a police officer at Cambridge Magistrates' Court and was jailed for 20 weeks and banned from driving for 36 months.

PC Mayor said: "The footage shows just how bad Ruplaukis's driving was and is a reminder of how dangerous driving while under the influence of alcohol is.

"Being so out of control, especially in such a large vehicle, put other road users at serious risk of harm.

"Thankfully we were able to stop him before he was involved in a serious collision."