Cambridge: Call For Tour De France Volunteers
13 December 2013, 16:05 | Updated: 7 February 2014, 17:53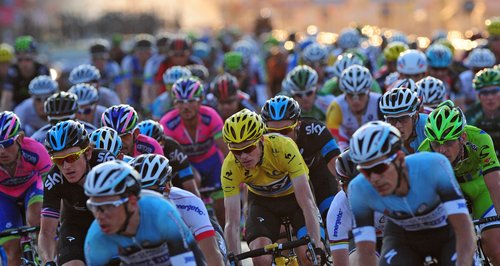 There is a fresh appeal for volunteers to help out when the Tour de France comes to Cambridge.
A stage of the world's most famous cycle race will start in the city on the 7 July next year.
During the two days previous to that, stages will also be held up in Yorkshire.
After leaving Cambridge, riders will race through Essex and into London.
Now, there are calls for more volunteers to help out during these UK stages of the race.
Volunteers are needed to fulfil similar roles to the 'Games Makers' which were so successful at London 2012.
Click here to register your interest in becoming a volunteer online.
Councillor Sarah Brown, Executive Councillor for Community Wellbeing at Cambridge City Council, said: "When the Tour de France comes to Cambridge next year, we will be ready for a day like no other.
The event will be made even more special by the contribution and hard work of volunteers so if you want to become a Tour Maker for Stage 3 next year, I would urge you to register online before December 31."
It was announced today that Asda will be the official partner of these so-called 'Tour Makers'.
The supermarket chain will recruit, train, feed and provide uniforms for volunteers.
10,000 volunteers are needed across the country.
Councillor Noel Kavanagh, Cycling Champion at Cambridgeshire County Council, added: "We are working closely with our Stage 3 partners to ensure that Monday 7 July 2014 is a historic day for the city and Cambridgeshire.
Cycling has grown massively as a sport and leisure pursuit in recent years and I am sure there will be many volunteers registering from our region to help on the big day."