Cambridge: Solar Racing Car Unveiled
31 July 2013, 13:58 | Updated: 31 July 2013, 14:17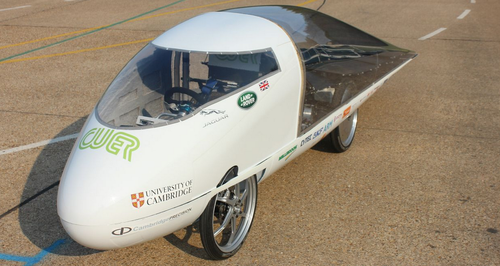 Students from Cambridge University will publicly unveil their solar-powered racing car tonight (Wednesday).
Members of the Cambridge University Eco Racing Team are preparing to compete in The World Solar Challenge.
The 3,000 kilometre race across Australia, from Darwin to Adelaide, takes place in October.
Tonight, Cambridge students will show off their creation to the public at the London Science Museum.
The car, which weighs just 120 kilogrammes and uses the same amount of electricity as a hairdryer, has been named 'Resolution'.
Despite the lack of power needed to run the vehicle, the car can reach motorway speeds.
Keno Mario-Ghae, team manager for Cambridge University Eco-Racing, based at the University's Department of Engineering, said: "Resolution is different because she overcomes one of the main limitations that affect most solar cars.
Traditionally, the entire structure of a solar car has been based on a trade-off between aerodynamic performance and solar performance.
That's how they've been designed for the past 10 years, and that's why they all tend to look the same.
We turned the concept on its head. Our reasoning is that solar performance needs to adapt to the movement of the sun, but the car needs a fixed shape to be at its most aerodynamic.
To make the car as fast and powerful as possible, we needed to find a way to separate the two ideas out, rather than find a compromise between them."