Cambridgeshire: Drink & Drug Drive Checks
3 June 2013, 11:56 | Updated: 3 June 2013, 11:57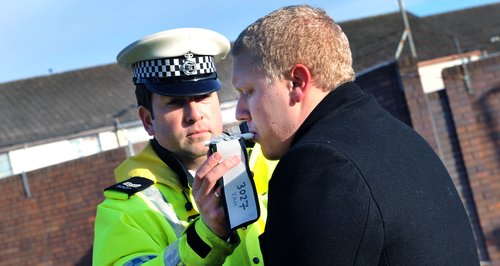 Extra traffic police officers are now on patrol in Cambridgeshire.
The officers will be carrying out increased checks for drivers in Cambridgeshire who are over the drink-drive limit, or under the influence of drugs.
The extra checks will run until the 1st of July.
According to Drink Aware, in the UK, the alcohol limit for drivers is 80 milligrammes of alcohol per 100 millilitres of blood, 35 microgrammes per 100 millilitres of breath or 107 milligrammes per 100 millilitres of urine.
During the summer campaign last year, 1,064 drivers were caught under the influence of drugs or alcohol in Cambridgeshire.
That's compared to 1,181 in 2011.
Inspector Mark Rogers said: "Over the next few weeks drivers should expect a highly visible police presence on the county's roads as we target those who drive under the influence.
Drink driving ruins people's lives and is completely unacceptable - if you drive under the influence of drink and drugs, expect to be caught and brought to justice.
Clair George, Cambridgeshire and Peterborough Road Safety Partnership added: "A drink-driving conviction has the potential to ruin someone's life with a mixture of legal and personal consequences.
Convictions mean at least a 12-month driving ban, a criminal record, a hefty fine and possible lifestyle changes.
Remember; don't rush to get behind the wheel the morning after you've been out drinking.
You may feel fine but you could still be over the legal alcohol limit or unfit to drive.
A cold shower, a cup of coffee or any of the other myths about sobering up will not make you fit to drive any quicker.
After four drinks during an evening, most motorists who drive the next morning will be over the limit.
It can take up to 12 hours to be safe to drive after drinking one bottle of wine."
According to Drink Aware, there is no fool-proof way of drinking and staying under the limit.
The amount of alcohol people would need to drink to be considered over the driving limit varies from person to person.
Drink Aware says it depends on weight, gender, metabolism, stress levels, food and age.