East: New Vehicles For Ambulance Service
28 July 2013, 06:37 | Updated: 29 July 2013, 10:39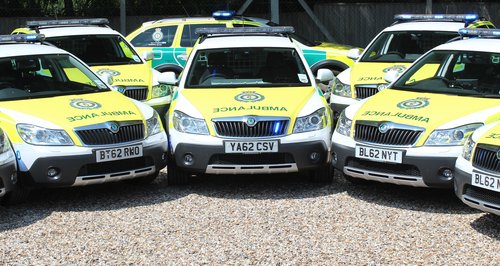 110 new rapid response cars are hitting roads across Cambridgeshire and the East, which its hoped will get patients to hospital quicker.
110 vehicles have been launched by the East of England Ambulance Service to replace older, less reliable ones.

£2.3 million has been spent on the new Skoda Scout response cars.

The East of England Ambulance Service will begin using 145 new A&E ambulances and the 110 new rapid response cars between now and the end of June 2014.

Associate Director of Operations Support, Paul Henry said: "We are moving as quickly as possible to ensure these vehicles are on the road in a timely manner.

Our fleet team are currently completing the procurement process and we anticipate that 50 of the new ambulances will be in service before Christmas and a further 47 coming into service during March 2014.

The remaining 48 ambulances are expected to come into service between May and June 2014."

The Ambulance Trust have told Heart all 110 rapid response vehicles will be out on the road by Christmas 2013.

Interim Chair of the service, Doctor Geoff Harris says they should make a difference, "We need to have the capacity available on the road in order to respond promptly and effectively to people who need help."

Doctor Harris also says he reconises there's still some way to go, to improve the region's ambulance service, "It's a tough job, and we need to keep working at it.
I just really hope with the redirection of resources onto the front line, where they need to be, that'll bring the results we all hope to see."