Hardwick: Car Wedged On Motorway Barrier
30 December 2013, 11:12 | Updated: 30 December 2013, 11:17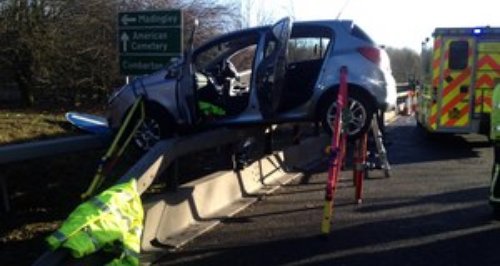 Two people have been rescued from a car that ended up balanced on a motorway barrier, following a crash on the A428 at Hardwick.
Emergency services were called to the crash on the eastbound carriageway of the road, near to Madingley, at 1040am yesterday.
Cambridgeshire Fire and Rescue Service say one car was positioned precariously on a motorway barrier and two people were trapped inside.
Firefighters used specialist equipment to stabilise the vehicle and release the two people.
Watch Commander Scott Feveyear added: "This was a slightly more unusual collision than we normally attend which required a range of skills from the crew.
The fire service would like to praise the swift actions of the drivers of a passing pick-up truck who tied the front end of the car to the Armco, helping to stabilise the car and preventing it from falling off.
Their quick-thinking helped to keep the vehicle steady while the emergency services were called and arrived."
Picture from Cambridgeshire Fire & Rescue Service.