Histon: Cake Carving Illustrates Green Belt Carving
4 September 2013, 16:00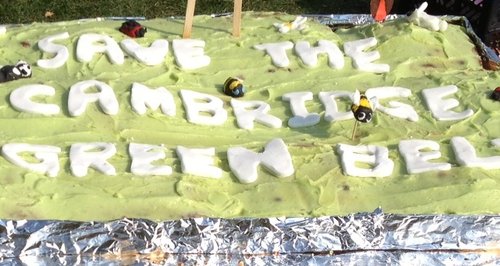 A giant green cake has been carved up in Histon today as demonstrators say their concerned over local councils willingness to let green-belt land go for housing.
The stunt follows local charity Cambridge Past, Present and Future (CPPF) telling Heart they question the need for the release of yet more Green Belt land for development, arguing that Local Authorities have so far failed to make a compelling case.
35,000 new homes are pencilled for the Cambridge region up to the year 2031 and CPPF say additional 1,000 new properties proposed for Green Belt sites could be assimilated elsewhere in the City and South Cambs, on brown-field sites.

Robin Pellew, Chairman of CPPF told Heart: "We accept the need for more housing, especially affordable and social but we believe no coherent and compelling argument has been presented by either Cambridge City Council or South Cambridgeshire District Council as to why any of this housing has to be located in the Green Belt.
Both the City Council (Cambridge Council) and South Cambridgeshire District Council (SCDC) seem to think that the pressure for more housing in and around the city is itself sufficient evidence to constitute the necessary 'exceptional circumstances' needed to justify building on the Green Belt as set out in the National Planning Policy Framework (NPPF). We believe that the Local Authorities have yet to demonstrate what these exceptional circumstances are."

Although it believes the Green Belt cannot be regarded as sacrosanct, CPPF feels that releasing more land from the Green Belt should be the option of last resort.
Today, the Histon & Impington Village Action Group (HAIVAG) have baked an enormous "green" cake to be cut up and given away – free of charge – to local residents on Histon Green. The group say they want to demonstrate through carving the cake, that Green Belt land in the village is under threat and is going to be "handed over"' to housing developers, even though it is supposed to be protected.
HAIVAG don't like the local authority seeking approval for the creation of 25 new homes on Green Belt off Impington Lane – land the group say is rich in wildlife, contributes to the rural feel of the village and is classed as a flood zone.
At the event today, visitors would be able to find out abot the Local Plan (between Cambridge City and SCDC) on their respective planning documents - setting how where approximately 33,000 new homes will go over the next eighteen years.
Sue Lee and Nicole Barton – members of the Histon & Impington Village Action Group (HAIVAG) – told Heart: "The land proposed for removal from the Green Belt in Impington is a small field that is classed as agricultural land of high grade and is rich in wildlife. The Council's own assessment of the plot stated that 'development on this site would have 'an adverse effect on the landscape and townscape setting of Impington'. HAIVAG would like SCDC to thoroughly explore Brownfield sites before approving building on the Green Belt.
Other areas of the Cambridge Green Belt are also under threat of development at Worts Causeway (430 houses), Sawston (340 houses) and Comberton (90 houses).
Cllr Pippa Corney, South Cambridgeshire District Council's cabinet member for planning policy told Heart: "We have a duty to provide housing to meet the needs of future generations but it is never possible to put forward a plan that pleases everyone. During the first two rounds of Local Plan consultation residents told us the green belt is very important. We have listened and we completely agree and this is one of the reasons why our draft Local Plan focuses on building the bulk of the much-needed new homes on sites with brownfield land and only a small number on green belt sites.

"We will continue to listen to our residents and even if you have taken part in the first two rounds of consultation please make sure you have your say again now before the fina decisions are made."
Liberal Democrat councillor Tim Ward, who is in charge of planning at Cambridge City Council, confirms the city council's draft plan is using release of green belt for housing only as its last resort: "after putting an enormous amount of work into finding every last piece of non-green belt land that can be developed. The vast majority of the housing needed within the city's boundaries is to be built on land which is not in the green belt, and the vast majority of existing green space within the city's boundaries will be preserved".
The public consultation on the Cambridge City Council draft local plan closes on Monday 30 September.
The South Cambridgeshire District Council consultation closes on Monday 14 October.
Anyone with a view on the future development of the city and the surrounding area can respond to the public consultation.