Linton: Year On From Chilford Hall Fire
13 June 2013, 14:12 | Updated: 13 June 2013, 14:30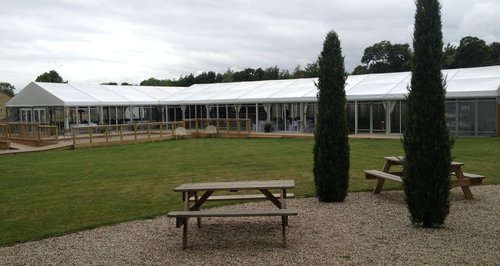 The owners of a Cambridgeshire wedding venue, which was destroyed in a fire one year ago, have told Heart they are still unsure what will replace it.
In February this year, two men were jailed for starting the fire [pictured - bottom] that destroyed the 400 year old barns at Chilford Hall.
27 year old Thomas Richardson and 28 year old Mark Hall both from Pipers Close in Haverhill, set fire to Chilford Hall in the early hours of 13 June 2012.
Richardson was jailed for five years and four months after admitting arson being reckless as to whether life was endangered.
Hall was jailed for four years after being convicted of the same charge following a trial.
Both were cleared of the more serious charge of arson with intent to endanger life.
The Cambridgeshire Police control room received a call from a woman who claimed Richardson and Hall had threatened to burn down Chilford Hall and were in a black Honda.
Officers spotted the Honda driving out of the grounds and towards Linton.
Richardson and Hall were later arrested in Haverhill.
The Honda was seized, inside police found bin bags containing several empty spirit bottles and white tissues soaked in alcohol.
Investigations by fire officers and crime scene investigators revealed the fire had been started deliberately.
Since the fire, a marquee [pictured - top and middle] has been put up, which is being used as a wedding venue as a replacement for the barns that were destroyed.
However, the owners have not yet decided what will be put in place of the barns.
Speaking today (Thursday), one of the owners of Chilford Hall, Fiona Alper said: "We were really sorry to lose the works of art that were in there, especially a sculpture that my husband had done.
However we've been so busy going forwards and re-building, that we really haven't had time to worry about the past; we're very positive.
There will always be a Chilford Hall here, and I think it's really important we do something here."