Mildenhall: Suspicious Package Found At RAF Base
13 February 2014, 14:26 | Updated: 13 February 2014, 17:19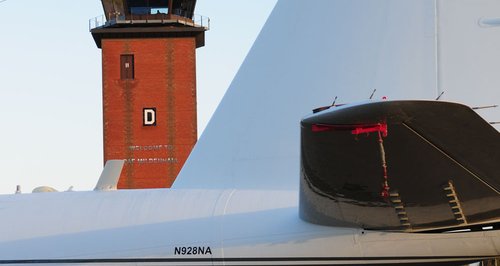 Bomb disposal experts were called to RAF Mildenhall this morning, after reports of a suspicious package.
It was discovered during a routine vehicle search at the main entry gate to the US Air Force base.
The area was shut off while the scene was made safe.
The main gate re-opened at 11am.
A statement issued by the US Air Force base reads: "The gate was closed at approximately 8:24 a.m. after 100th Security Forces Squadron personnel found a suspicious package during a routine vehicle inspection.
The 100th SFS, Ministry of Defence and British Explosive Ordnance Disposal personnel worked together to clear the scene, and they have certified it is now safe, according to Lt. Col. Kevin Parker, 100th Civil Engineer Squadron commander."
RAF Mildenhall is home to the 100th Air Refuelling Wing of the United States Air Force.
Suspect Packages Sent To Army Careers Offices
The discovery at RAF Mildenhall came on the same day Counter-terrorism police were investigating reports of suspect packages being found at army careers offices.
Packages have been found in Canterbury, Oxford, Slough and Brighton, while similar packages were found earlier in the week in Aldershot, Reading and Chatham, the south east counter terrorism unit said.
Police officers consider the situation a "low-level threat'' but "viable'', sources said.
Ministry of Defence bomb disposal units have been called, although this is routine with any suspect package.
Detective Superintendent Stan Gilmour, of the south east counter terrorism unit, said: "Because suspicious packages were found at various locations yesterday, notes were sent out to all the army careers offices, as well as the Post Office, asking staff to be extra vigilant and look out for any suspect packages.''
Queensmere Shopping Centre, in Slough, was evacuated, while cordons were placed close to all offices where packages have been found.
A Ministry of Defence spokesman said: "We can confirm that we are aware of security incidents ongoing in Oxford, Slough and Brighton involving armed forces careers offices.
The relevant police authorities are investigating with military EOD (explosive ordnance disposal) teams in support and any further inquiries should be directed to the police. ``Security advice has been reiterated to our personnel.''
Update - 17:16, 13th February 2014.
RAF Mildenhall has confirmed that the device found in the vehicle was a home-made firework, and is not thought to be terrorism-related.
The discovery is not being connected to suspect packages being found at army careers offices in other parts of the country.
The latest statement from RAF Mildenhall reads: "At approximately 8:24 a.m. Feb. 13, 2014, 100th Security Forces Squadron and Ministry of Defence Guard Service personnel found a suspicious object while performing a routine vehicle entry control check at the RAF Mildenhall Main Gate.
Security personnel responded to the find and closed the main gate.
They also immediately requested the assistance of a British Explosive Ordnance Disposal unit.
The EOD unit subsequently removed the item, which was determined to be a homemade firework.
The RAF Mildenhall Main Gate re-opened at approximately 11 a.m. and returned to normal operations.
The United Kingdom authorities are in the process of investigating this situation and the individual involved.
At this time, this situation is not thought to be terrorist-related and is not believed to be connected to suspicious packages found recently at some MoD recruiting offices.
RAF Mildenhall is committed to working together with our partners to ensure the safety of the local community."