Northstowe: Building Work Could Start Soon
30 June 2013, 05:55 | Updated: 30 June 2013, 06:42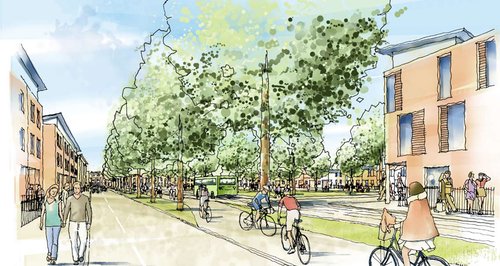 Construction work on a 10,000 home new town in South Cambridgeshire could start by the end of the year.
The announcement was made during a visit to the site by Planning and Development Minister Nick Boles on Friday (28 June).
In a statement, South Cambridgeshire District Council said: "Developers Gallagher could begin work on site later this year."
The development would be the biggest new town in the country since Milton Keynes was built.
Northstowe, which is due to be built near the village of Oakington, has been in the planning stages since around 2006.
However a brick is yet to be laid.
The project was delayed by the recession, but has gained momentum during the last couple of years with plans for the first stage of around 1,500 new houses, a school and sports hub formally submitted in 2012.
Outline planning permission for this initial stage was granted by South Cambridgeshire District Council last October.
The recent confirmation from the government of a £1.5 billion A14 upgrade will further strengthen the cause for Northstowe to be built, as it will lie directly alongside the road.
Northstowe would also link up with the existing Cambridgeshire Guided Busway, which runs between Cambridge and St Ives.
Planning Minister Nick Boles [pictured] said: "We are determined to bring about the new homes, investment and jobs we need and to get sustainable development underway without delay.
We're helping deliver thousands of new affordable family homes across the country, improving vital transport links like the A14 and making the most of every single square inch of previously-used land available."
Councillor Tim Wotherspoon, South Cambridgeshire District Council's cabinet member for Northstowe, said: "It was fantastic to welcome Nick Bowles to the site of Northstowe following the news that the much-needed upgrade to the A14 is to go ahead.
The improvement will unlock future phases of Northstowe and make sure we can manage more of the transport implications of building a new town will have.
We are all working hard to make sure the town is built to the highest standards so we can look back on it with pride."
Cambridgeshire County Councillor Ian Bates, cabinet member for growth and planning, said: "Cambridgeshire is leading the way in managing and supporting growth and the City Deal could unlock potential that could otherwise be lost.
We have worked with the Government in bringing forward vital measures such as the highly successful Busway and now the A14 to manage that growth to enable growth whilst preserving the quality of life for existing residents.
Cllr Tim Ward, Cambridge City Council's executive councillor for planning and climate change, said: "I am very pleased the Minister is visiting Cambridge City to see the progress that we are making to deliver high quality new communities and create new jobs.
The provision of affordable housing is a high priority for the City Council and we are working hard to enable more homes to be built."