Old Cambridge Uniform Goes To Help Refugees
7 March 2017, 12:00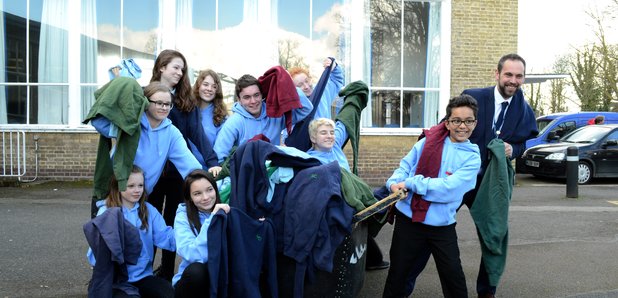 Nearly half a tonne of redundant school uniform has been donated by pupils in Cambridge to young people fleeing war-torn Iraq and Syria.
Impington Village College recently changed their uniform's colours, so decided to give their excess stock to Cambridge Convoy Refugee Action Group (CamCRAG).

The group will be taking the clothes, along with other essentials, across to Calais, Dunkerque and Paris.

Lara Brettell, who's the chair of CamCRAG, said: "We're very grateful to the parents and staff at Impington for this donation.

"There are still thousands of refugees in Calais, Dunkirk and Paris with more arriving every day.

"Being able to provide them with warm, clean clothes is vital."
Ryan Kelsall, who's Principal at Impington Village College, said: "This is great way to recycle our old, redundant uniform and prevent it going to landfill.
"We are thrilled that all of this warm clothing will be donated to people who need quality garments to keep the cold at bay until the warmer spring weather arrives."