Stansted: Airbus A380 Touches Down
29 July 2013, 17:15 | Updated: 29 July 2013, 17:54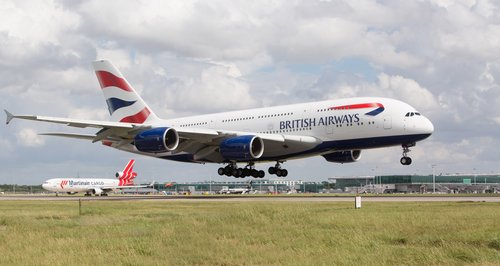 The world's largest passenger aircraft has touched down at Stansted Airport for the first time.
The Airbus A3780 [pictured] flew into the Essex terminal as part of a flight training programme run by operator British Airways.
The aircraft will be entering long-haul service with British Airways later this year.
The test flight was used to give the crew the chance to become familiar with Stansted Airport, in the event that the A380 is diverted there in future.
Stansted was awarded the status allowing large passenger aircraft like the A380 to land at the airport in 2010.
Stansted Airport's Managing Director, Andrew Harrison, said: "Stansted is a world class airport that has the ability to accommodate the new generation of aircraft thanks to its future proof design and layout so today is a fantastic occasion as we welcome our first ever Airbus A380.
This fabulous aircraft is more fuel efficient than its predecessors and is one of the quietest planes in the sky - it really is a whispering giant.
The state-of-the-art aircraft demonstrates the continual improvements made in design and technology by the aviation industry to meet the dual challenge of providing for passenger growth while reducing environmental impacts.
We have made clear it's our ambition to grow Stansted by attracting more airlines, providing more choice of destinations and making it better for passengers than ever before, ultimately becoming the best airport in London.
Airlines using aircraft such as the A380 are exactly the type of carriers we are looking to attract to Stansted as we compete to win new business and put the airport back on a path to growth.
Today was a test flight for BA and its A380 but it's a significant milestone for Stansted and recognition we can accommodate any aircraft from anywhere in the world.
Stansted has the ability to double the number of flights it handles almost overnight so today highlights the potential the airport offers to airlines looking to access the London market using the world's largest commercial planes."