Stretham: Fire Closes A10
27 June 2013, 14:39 | Updated: 27 June 2013, 18:42
A fire at an industrial unit has closed the A10 in both directions between Stretham and Ely.
Cambridgeshire Fire and Rescue Service told Heart nine fire crews were called to the scene of the fire, on Ely Road in Stretham at 1:50pm today (Thursday).
Two factories at Master Logistics Services were alight, and as well as fighting the blaze crews also had to protect other buildings on the site.
The Fire Service warned people living nearby to keep their windows and doors shut.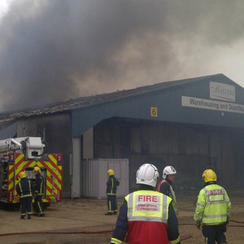 Three people were treated at the scene by paramedics for breathing in smoke, but there were no reported serious injuries.
Speaking at 4.45pm, a spokesman for the Environment Agency said: "This is an ongoing incident that is being led by Cambridgeshire Fire and Rescue Service, who are still dealing with the fire.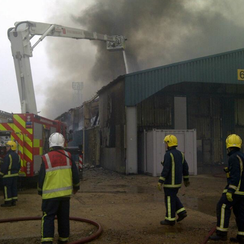 The fire service contacted us about the fire shortly after 2pm, and we immediately sent officers to the site to check for environmental impact.
They found that an as-yet unspecified amount of diesel has got into ditches.
Fire crews are still on site dealing with the incident and we will contain the diesel spill as quickly as possible."
The above picture was taken by James Wright, who works in Stretham.
He's told Heart: "I can see several police and fire engines, I know you can easily see the smoke from Ely.
Smoke got bad about 1pm."
Reports suggested smoke was visible from as far away as the village of Swavesey, around 18 miles away.