Cambridge: Students Out Of Solar Race
6 October 2013, 07:55 | Updated: 6 October 2013, 08:02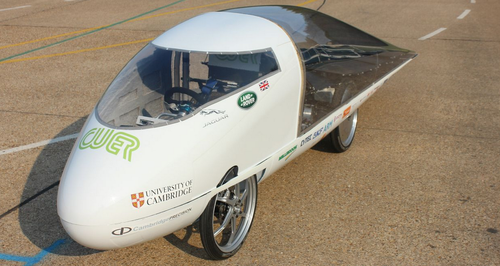 The Cambridge University Eco Racing Team has been forced to withdraw from competing in today's World Solar Challenge.
The team was due to compete in the 3,000 kilometre race across the Australian Outback from Darwin to Adelaide.
Their car, called 'Resolution', used the same amount of power as a hairdryer, was the shape of a teardrop and weighed substantially less than a regular car.
However the car was severely damaged in a crash during a test run earlier this week, and the team has not been able to recover in time.
A statement on the team's website reads: "For the past week, we have been carrying out final preparations on Resolution for the race.
On Tuesday, while testing on a specially designated solar testing road in Australia, our car had an accident during which it rolled onto its side.
The driver was unhurt.
Over the following days, repairs were made to the structure of our car, to restore the safety cage around the driver.
Further tests were then carried out under controlled conditions on track.
This revealed new dynamic instabilities, which we have not been able to fix in the time we have left before the race.
Due to the limited amount of time we have left to remedy our situation, we have not been able reassure ourselves of the safety of our solar drivers.
Therefore, with great regret, we have decided to withdraw.
The team is very disappointed but we are confident that we have made the right decision."
Despite pulling out of the competition, the team says it will spend the next fortnight continuing to test Resolution in Australia.