St George's Day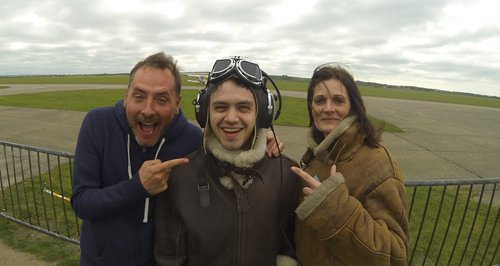 Kev, Ros, & Producer Josh have decided this is the year that we make a big deal about St George's Day...
After all, St George is the Patron Saint of England!
But what should we do?
Have a proper English Roast?
Paint an England flag on our faces?
Learn Morris Dancing?
All good ideas, but none of them seems BIG enough!
How about sending a terrified breakfast team member to Duxford to fly around in a 1940s Tiger Moth biplane over England's pleasant pastures green?
...with the soundtrack of Ely Cathedral Girls' Choir singing Jerusalem!
So Kev & Josh tossed a coin to see who'd be taking to the skies - and what happened is probably the most English thing ever!
Happy St George's Day
With thanks to:
Ely Cathedral Girls' Choir
Stuart Etheride / Pilotpix
Pilotpix are specialists in aerial videography and film making, providing a range of services. Everything from documentaries through air to air assignments and filming for the media. We have talented staff who understand how to get these jobs done safely and efficiently. We are able to simply provide onboard cameras or manage the entire assignment including provision of camera aircraft and gaining necessary permissions.

The company is headed up by creative director, Stuart Etheridge. Stuart has years of experience in the aviation sector and is also a keen private pilot. Over his career Stuart has photographed and filmed everything from Spitfires to F15s and has some specialist skills in onboard mini-camera installations.

At Pilotpix we understand that airborne time is not a cheap commodity - that's why we like to get it right first time, every time.
Family-run Classic Wings have operated from IWM Duxford, Europe's premier aviation museum, since 1991, offering pleasure flights to the public in some of the all-time classic aircraft.
When you climb aboard any of the company's aircraft you are both stepping back in time and flying in historic aircraft in its own right.
They offer a range of flight experiences from the 8 seater Dragon Rapide, for amazing sightseeing tours, a trial lesson in s genuine WWII Tiger Moth, a thrilling flight in a Warbird, the T6 Harvard or flying Wing to Wing with a Spitfire. But the ultimate experience for may people has to be flying "In a Spitfire"